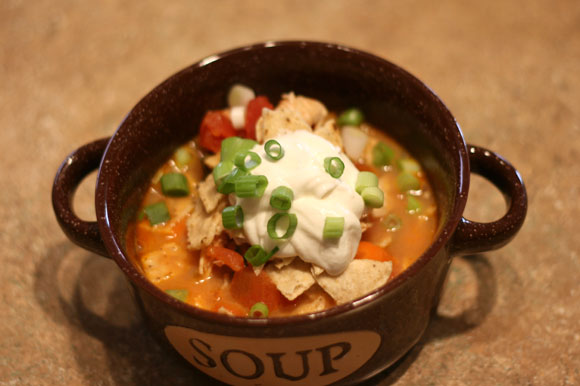 I just love soup (and chili) so much. I even make them when it's over 100 degrees outside. Thankfully it's October and it's starting to cool down a little…It's at least under 90 degrees. I am currently 6 months pregnant and I am starting to stock the freezer since I know I won't be cooking for a while. I froze the leftovers of this soup to enjoy after our little girl arrives. When I freeze soups, I like to pour them into a gallon size bag and freeze it flat. That way they can easily be stacked in the freezer and they thaw faster too. Sometimes I will even reheat them in the slow cooker to make it even easier.
Ingredients:
1 lb Chicken Breasts
4 Tablespoons Olive Oil, divided
1 Tablespoon Taco Seasoning
2 Garlic Cloves, minced
4 Carrots, chopped
10 oz Can Rotel
2 (15 oz) Cans Diced Tomatoes
1 Quart Chicken Stock
4 Cups Spinach, chopped
4 Green Onions, diced
Kosher Salt and Freshly Ground Black Pepper
1/4 Cup Heavy Cream
For Garnish:
Sour Cream
Avocado
Tortilla Chips
Green Onions
Preheat oven to 425°F. Line a baking sheet with foil. Place chicken breasts on prepared baking sheet, drizzle with 2 Tablespoons olive oil and season with taco seasoning. Bake until chicken is thoroughly cooked, about 20 minutes. After roasting, shred the chicken with a fork.
While the chicken is roasting, heat a soup pot over medium heat. Add garlic and carrots, cooking a couple minutes to soften slightly. Stir in tomatoes, Rotel and chicken stock. Season with salt and pepper. Bring to a gentle simmer then add the spinach. Let simmer for 10 minutes. Add heavy cream and shredded chicken.
Serve with desired garnishes.
Yield: At least 6 Servings
-Recipe from Everyday Occasions by Jenny Steffens Hobick–