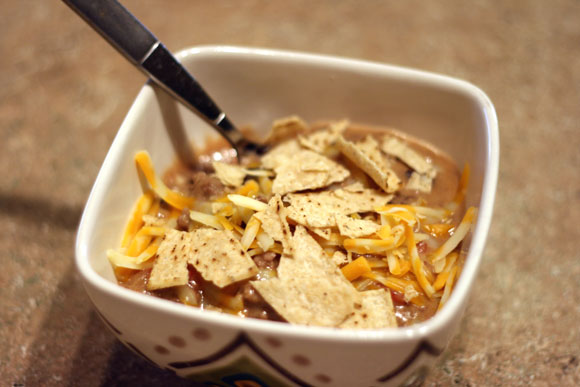 This is a wonderfully cheesy soup that is perfect for fall!
Ingredients:
1 lb Ground Beef
2 Tablespoons Butter
2 Tablespoons Flour
2 1/2 Cups Milk, divided
Salt & Pepper
1 Cup Shredded Cheddar Cheese, and more for topping
1-2 Tablespoons Taco Seasoning
10 oz Can Rotel
12 oz Can Black Beans, drained and rinsed
Tortilla Chips, crushed for topping
Heat a large soup pot over medium-high heat. Brown beef and season with salt and pepper. Drain off excess fat and return beef to the pot.
While the beef is cooking, melt the butter in a small saucepan over medium heat. Whisk in flour, cook 1 minute. Whisk in 1 cup milk and season with salt and pepper. Using a wooden spoon, stir occasionally for 3-4 minutes to thicken sauce. Remove from heat. Stir in shredded cheddar cheese until sauce is smooth.
To the soup pot, add taco seasoning, Rotel, black beans, cheese sauce and remaining milk. Stir to combine. Bring to a bubble, reduce heat and let simmer for about 10 minutes. Serve with additional cheese and tortilla chips.
Yield: 4 Servings
-Recipe from Iowa Girl Eats–