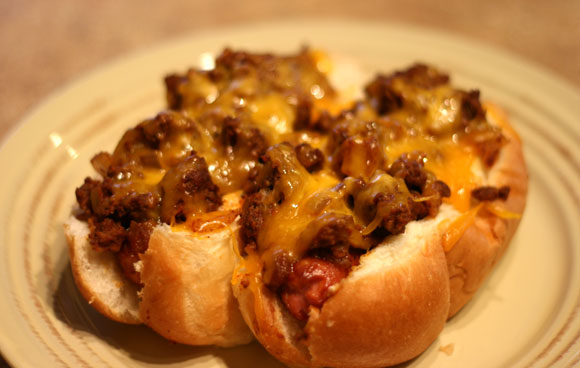 This is a recipe I have made a few times. It's super simple and quick to make. The chili is thick so the buns don't get soggy and the cheese is melted in the broiler to make it extra delicious.
Ingredients:
8 Hot Dogs
8 Hot Dog Buns
2 Cups Cheddar Cheese, shredded
1 lb Ground Beef
Salt & Pepper
2 teaspoons Worcestershire Sauce
1 Small Onion, chopped
2 Cloves Garlic, minced
1 Tablespoon Chili Powder
8 oz Can Tomato Sauce
1 Tablespoon Butter
1 Tablespoon Hot Sauce
Heat a skillet over medium/high heat. Add beef, cooking until browned. Season with salt and pepper.
Add Worcestershire sauce, onion, garlic and chili powder. Cook for about 5 minutes to soften the onion.
Add tomato sauce, reduce heat and simmer.
Boil the hot dogs in a shallow skillet of water for about 5 minutes. Drain and score the casings with a knife.
Melt butter in the same skillet over medium/high heat. Add the hot sauce and hot dogs. Brown the hot dogs slightly on all sides.
Assemble the hot dogs on a baking sheet. Place a hot dog in a bun, top with chili and cheese. Melt the cheese until the broiler, about 1-2 minutes.
Yield: 8 Chili Cheese Dogs
-Recipe from Classic Rachael Ray 30 Minute Meals Cookbook-