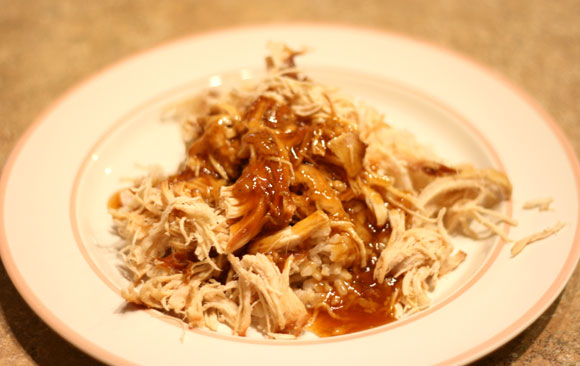 This Slow Cooker Brown Sugar and Garlic Chicken recipe is sweet and tangy. The chicken slow cooks all day, then the sauce gets thickened up to make a nice glaze. This chicken goes well over brown rice or whatever your favorite rice is.
Ingredients:
4 Large Chicken Breasts
1 Cup Brown Sugar
2/3 Cup Apple Cider Vinegar
1/4 Cup Lemon-Lime Soda
8-10 Garlic Cloves, minced or finely grated
2 Tablespoons Soy Sauce
1 teaspoon Black Pepper
2 Tablespoons Corn Starch
2 Tablespoons Water
Crushed Red Pepper Flakes, optional for serving
Combine chicken, brown sugar, apple cider vinegar, soda, garlic, soy sauce and pepper together in a slow cooker. Cook on low for 6-8 hours or high for 4 hours.
Once cooked, remove chicken from the slow cooker and shred it.
Pour the sauce into a saucepan and whisk in cornstarch and water. Bring to a boil and let bubble for 2-3 minutes to thicken. Remove from heat and let sit for a couple minutes before serving. The sauce will thicken up.
Serve chicken over brown rice with the sauce on top. Sprinkle on some crushed red pepper flakes to spice it up.
Yield: about 6 Servings
-Recipe adapted from Makin' it Mo' Betta–