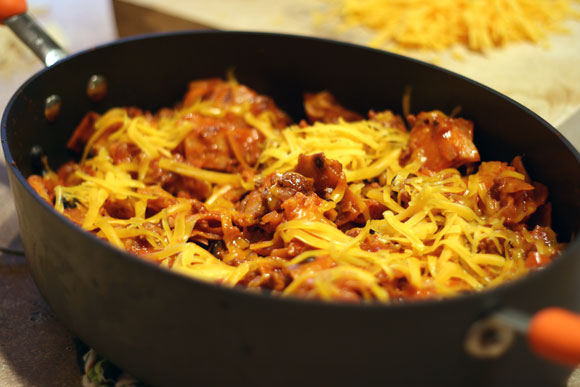 There are so many different forms of enchiladas and they are all so amazing. Skillet Enchiladas are really like a lazy cook's enchiladas. No rolling up of tortillas is involved in this recipe. You could make this dish even easier by using tortilla chips instead of tortillas. Either way it will be an easy and delicious dinner.
Ingredients:
1 Tablespoon Extra Virgin Olive Oil
12 Flour Tortillas (8 inch size)
1 Onion, diced
1 1/2 lbs Ground Beef
Salt & Pepper
28 oz Can Enchilada Sauce
3.8 oz Can Sliced Olives, drained
1-2 Cups Cheddar Cheese, shredded
Sour Cream, for topping
Cut tortillas into bite size pieces.
Heat oil in a large skillet over medium/high heat. Add tortillas and cook until they are lightly toasted. Reserve on a plate.
Brown onions and beef in the same skillet over medium/high heat. Add enchilada sauce and olives and bring to a bubble.
Stir in reserved toasted tortillas. Remove from heat.
Top with shredded cheese and serve with sour cream.
Yield: 6 Servings
-Recipe adapted from No. 2 Pencil–