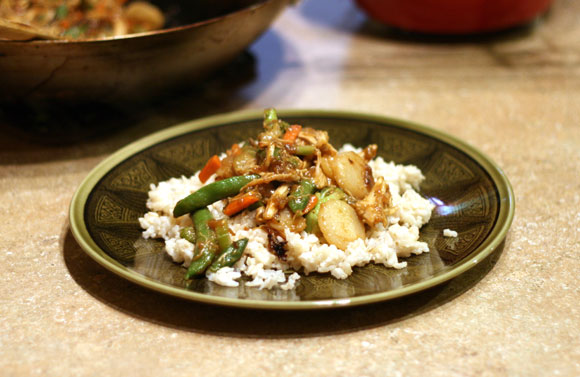 I have been making stir-fry once a week for several weeks now because I've found that my 2 year old will actually eat rice.  Owen gets very excited when I say rice is for dinner.  I don't like saying that my kids are picky…they just haven't learned to like certain foods yet.  Chloe always says she will like certain things when she is older.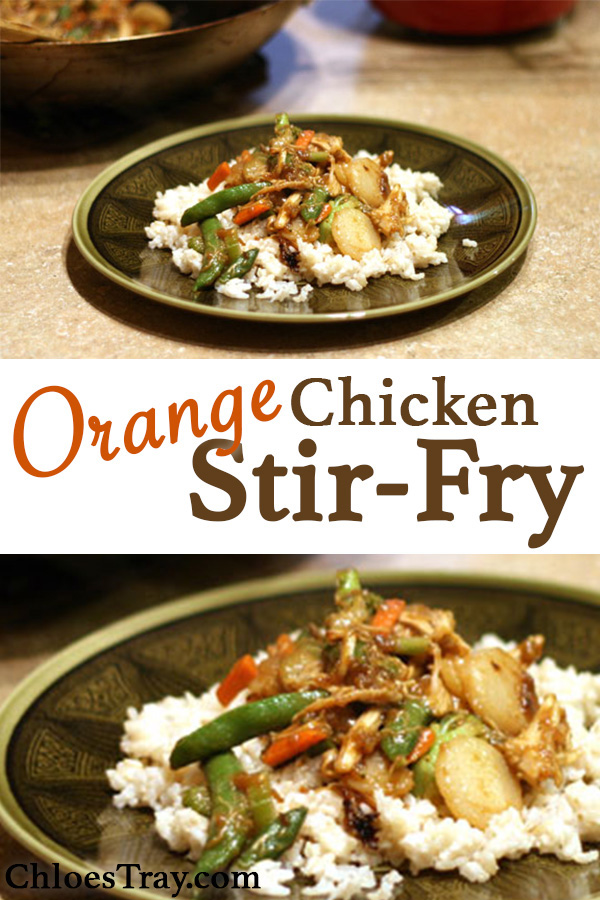 Ingredients:
2 Tablespoons Canola Oil
1 1/2 Cups Shredded Chicken (or turkey)
12 oz Bag Frozen Stir-Fry Vegetables
8 oz Can Water Chestnuts
Sauce-
1/2 Cup Orange Juice
2 Tablespoons Soy Sauce
2 Tablespoons Rice Vinegar
1 Tablespoon Orange Zest
2 Cloves Garlic
1 teaspoon Ginger
3 Tablespoons Cornstarch
Blend together all the sauce ingredients in a blender or food processor.  Pour the sauce into a small saucepan and cook over medium/high heat for about 5 minutes.  The sauce will thicken up a lot.
Heat the oil in a wok or large skillet over high heat.
Add chicken, frozen vegetables and water chestnuts to the hot pan.  Cook, stirring constantly until the chicken and veggies are hot.
Add the sauce and keep stirring until everything is coated in the orange sauce, about 1 minute.  If the sauce is too thick, add a splash of orange juice.
Serve over brown rice.
Yield: about 3-4 servings