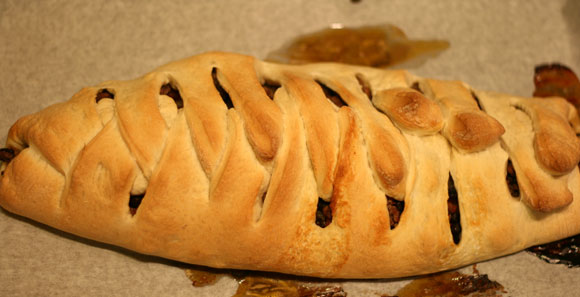 This Taco Braid is similar to a Calzone or Stromboli, except that the dough is braided together instead of folded or rolled up.  It is filled with a mixture of ground beef, beans and cheese.  You may notice that my picture doesn't have any cheese in it.  No excuses, I completely forgot to add cheese until we were eating it.  It was delicious even without the cheese.
Ingredients: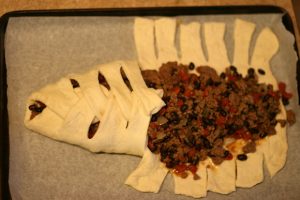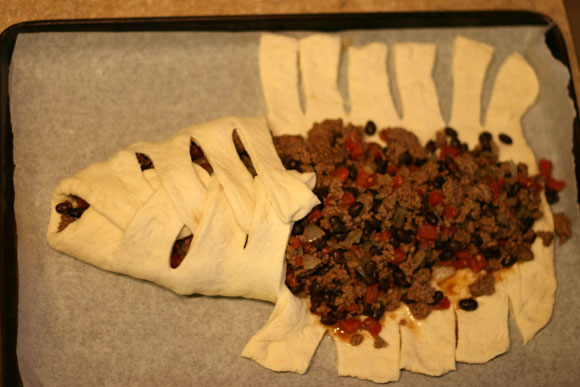 1 lb Ground Beef
1 Tablespoon Taco Seasoning
1 Onion, diced
1 (10 oz) Can Rotel
15 oz Can Black Beans, drained/rinsed
2 Cups Shredded Cheese
1 Pizza Dough, allow to rise
Preheat oven to 350°F.
Brown the ground beef in a skillet over medium high heat, about 5 minutes.  Season with taco seasoning.  Add onion, cooking until softened, about 2–3 minutes.  Stir in Rotel and black beans.
Working on a baking sheet covered in foil or parchment paper, form pizza dough into a large rectangle that nearly covers the pan.  Spread mixture along the center of the rectangle, lengthwise.  Sprinkle with shredded cheese.
Using kitchen scissors, make cuts 1 inch apart along both sides of the dough on the long sides.  Fold the strips over the filling, alternating sides to braid it together.
Bake until golden brown, about 30-40 minutes.
Serves: 4-6
-Recipe adapted from 3 Mom's and a Kitchen–