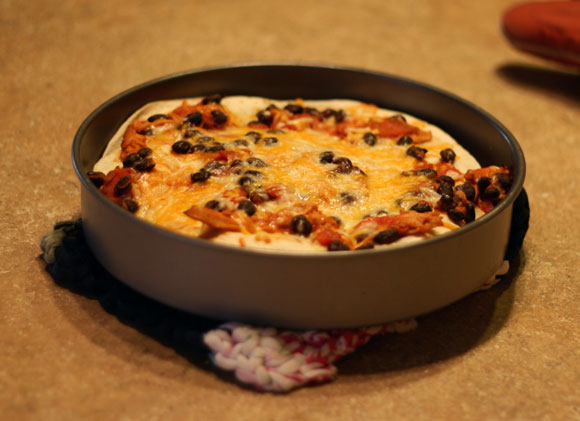 Layered Enchilada Casserole is a quick and easy freezer meal that requires practically no cooking.  This can be make with a rotisserie chicken or you can just throw a couple chicken breasts in the slow cooker.  All you have to do it mix it up, layer it in the pan and freeze it for later.
Ingredients:
4 Cups Shredded, Cooked Chicken
2 (15 oz) Cans Died Tomatoes, drained
2 (15 oz) Cans Black Beans, drained
2 Cups Enchilada Sauce
4 Cups Shredded Colby Jack Cheese
9 Flour Tortillas (about 10 inch)
In a large bowl, combine chicken, tomatoes, black beans and enchilada sauce.
Prepare 3 casseroles using 8 x 8 inch square pans or 9 inch cake pans.
Scoop about 1/3 cup of the chicken mixture into each dish.  Top each with 1 tortilla.  Layer on more of the chicken mixture, then some cheese and another tortilla.  Repeat layering ending with cheese on top.
Wrap with foil and freeze.  Be sure to label and write baking directions on the foil.
Thaw in refrigerator before baking.
To bake:
Preheat oven to 350°F.  Bake until heated through, about 30 minutes.
Yield: 3 Casseroles that have 4 servings in each.