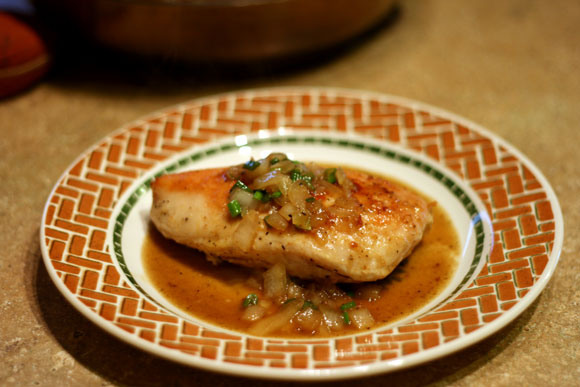 Another recipe from my new favorite show, America's Test Kitchen.  These Pan Seared Chicken Breasts are so amazing.  They are crispy on the outside and moist on the inside.  Served with a simple pan sauce, and you have a perfect weeknight dinner.  The original recipe called for shallots and chives in the pan sauce, but all I had was onions and green onions.  Use either and you will have a delicious pan sauce to go with these fabulous chicken breasts.
Ingredients:
4 Boneless/Skinless Chicken Breasts
2 teaspoons Salt
1 Tablespoon Vegetable Oil
2 Tablespoon Flour
2 teaspoon Cornstarch
1 teaspoon Black Pepper
4 Tablespoons Melted Butter
For Pan Sauce:
1 Small Onion, minced
1 Tablespoon Flour
1 Cup Chicken Broth
1 Tablespoon Lemon Juice
1 Green Onion, thinly sliced
1 Tablespoon Butter
Preheat oven to 275°F.  Poke each chicken breast deeply in the thicker end 5-6 times.  Sprinkle salt on both sides of the chicken breasts, about 1/2 teaspoon per breast.  Lay in a baking dish and cover with foil.  Bake until the internal temperature of the chicken breasts are 145°F-150°F, about 30-40 minutes.  After baking, dry chicken breasts on paper towels.
Heat 1 Tablespoon vegetable oil in a 12″ skillet over medium/high heat until just smoking.
Whisk together flour, cornstarch, black pepper and melted butter in a small bowl.  Brush butter mixture on one side of the chicken breasts and lay brushed side down in the hot pan.  Cook for 3-4 minutes to brown.  Brush butter mixture on the chicken before flipping them over.  Cook an additional 3-4 minutes to brown and until they reach an internal temperature of 165°F.  Reserve on a plate.
Add minced onion to the same skillet, cooking until softened.  Sprinkle in flour, cook for 30 seconds.  Whisk chicken broth in slowly.  Simmer 4-5 minutes to thicken slightly.  Pour in any juices that have accumulated on the plate of chicken.  Stir in lemon juice, green onions and butter.
Serve chicken breasts with pan sauce on top.
Serves: 4
-Recipe slightly adapted from America's Test Kitchen-