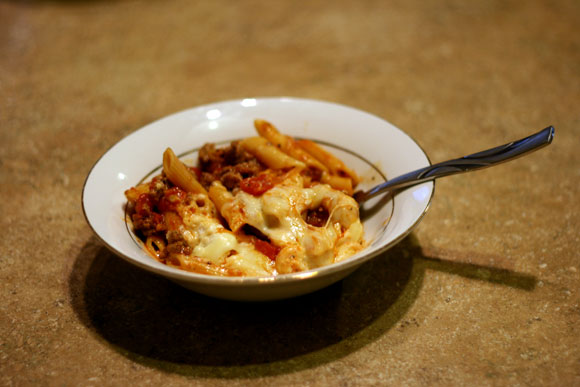 Lasagna doesn't get easier than this Skillet Lasagna dish.  This is a one-pot meal that cooks the pasta right with everything else.  Skillet Lasagna is a perfect weeknight meal that your family will love.
Ingredients: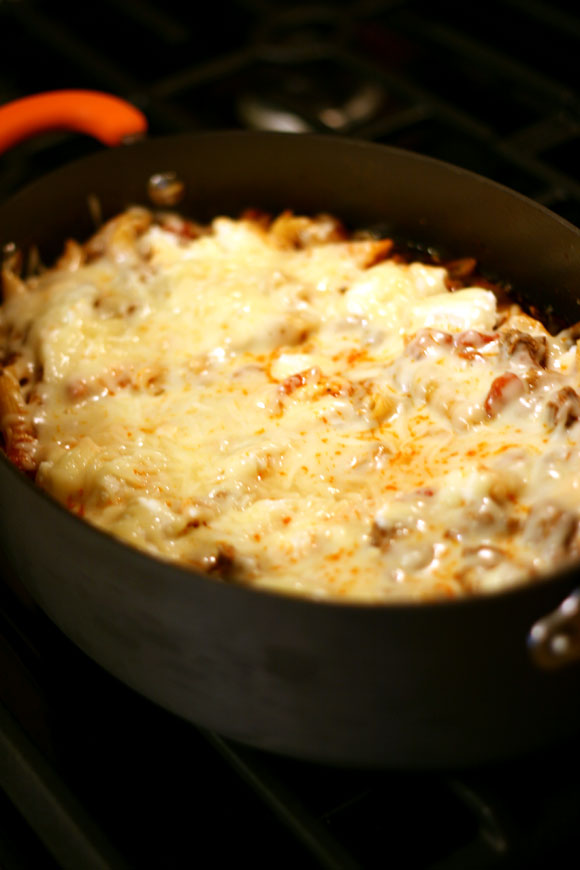 1 Tablespoon Olive Oil
1 Onion, thinly sliced
2 Cloves Garlic, minced
1 lb Ground Beef
8 oz Penne
15 oz can Tomato Sauce
14.5 oz can Petite Diced Tomatoes
1 Tablespoon Italian Seasoning
1 teaspoon Garlic Powder
24 oz Water
1 Cup Ricotta Cheese
8 oz Mozzarella Cheese, shredded
Heat olive oil in a large skillet over medium high heat.  Add onion and garlic and cook until softened, about 2-3 minutes.  Add ground beef, cooking until browned, about 5 minutes.
Add penne, tomato sauce, diced tomatoes, Italian seasoning, garlic powder and water.  Bring to a bubble, reduce heat and simmer covered until pasta is tender, about 15-18 minutes.  Stir halfway through cooking.
Remove from heat.  Dot the top with ricotta cheese and gently fold in, leaving streaks of ricotta throughout the dish.  Top with mozzarella cheese and let it melt before serving.
Yield: 6-8 Servings