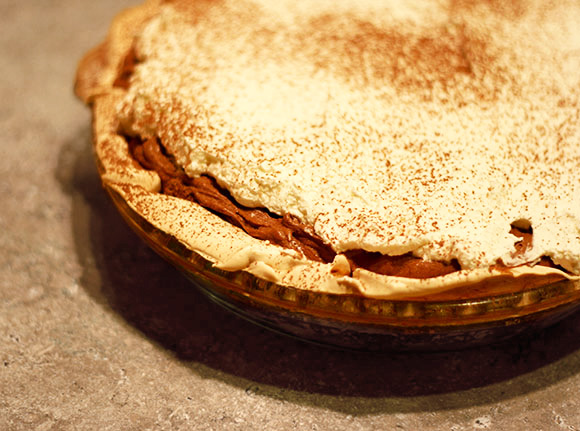 This Chocolate Angel Pie is really amazing.  It is made of a meringue crust which is filled with a sweet chocolate mousse filling and topped with homemade whipped cream.  It looks so fancy too!  I used chocolate chips for my pie, but a bar of chocolate would work too; just chop it before melting.  This Chocolate Angel Pie calls for 3 egg yolks in the filling, but save the whites for the meringue crust.  I have learned from watching America's Test Kitchen that it is best to chill your mixing bowl before whipping up heavy cream.  So, chill your bowl and get ready to make a delicious Chocolate Angel Pie.
Ingredients:
Filling-
9 oz Milk Chocolate
5 oz Bittersweet Chocolate
3 Egg Yolks
1 1/2 Tablespoons Sugar
1/2 teaspoon Salt
1/2 Cup Half-and-Half
1 1/4 Cups Heavy Cream
Meringue Crust-
1 Tablespoon Cornstarch, plus extra
1/2 Cup Sugar (3 1/2 oz)
3 Egg Whites
1 pinch Cream of Tartar
1/2 teaspoon Vanilla Extract
Topping-
1 1/3 Cups Heavy Cream
2 Tablespoons Powdered Sugar
Unsweetened Cocoa Powder
Prepare the filling by melting the milk chocolate and bittersweet chocolate in a large bowl in the microwave.  Heat at 50 percent power for 1 minute intervals.  Stir after each minute until melted.
In a medium bowl, whisk together egg yolks, sugar and salt for 1 minute.  In a small saucepan, heat half-and-half over medium heat until simmering.  Slowly whisk the warm half-and-half into the egg yolk mixture.  Pour back into the saucepan and heat over low until slightly thickened, about 1 minute.  Stir into the large bowl of melted chocolate.  Let cool slightly, 5-10 minutes.
Use a stand mixer with whisk to whip the heavy cream.  Start on medium-low until cream is foamy, about 1 minute.  Turn to high and whip until soft peaks form, about 1-3 minutes.  Gently whisk 1/3 of the whipped cream into the chocolate mixture.  Fold in the remaining cream until completely combined.  Cover and refrigerate for at least 3 hours.
Prepare the meringue crust now.  Lower oven rack to lowest position and preheat oven to 275°F.  Grease a 9 inch pie plate and dust with cornstarch.
Stir together sugar and cornstarch in a small bowl.  Add egg whites and cream of tartar to a stand mixer.  Whip with whisk attachment on medium-low until foamy, about 1 minute.  Turn to medium-high until the eggs are soft and billowy mounds, 1-3 minutes.  Slowly add sugar mixture and whip until stiff peaks form, 3-5 minutes.  Whisk in vanilla.
Spread meringue into the prepared pie plate, covering the bottom and sides completely and evenly.  Bake for 1 1/2 hours.  Rotate pie plate and reduce oven temperature to 200°F.  Bake until dry, about 1 hour.  Let cool for 30 minutes.
Pour chilled chocolate mixture into cooled meringue crust and spread evenly.
Prepare the topping by whisking together heavy cream and sugar with an electric mixer on medium-low until foamy, 1 minute.  Turn to high and whisk until stiff peaks form, 1-3 minutes.  Spread whipped cream evenly over the pie.  Refrigerate until chocolate filling is set, about 1 hour.
Dust with cocoa powder before serving.  Slice with a shape knife.  Serve within 3 hours of chilling.
Yield: 9 inch Pie – about 8-10 servings
Note: Between chilling and baking, give yourself about 5 hours to complete this pie.
-Recipe from Cook's Country magazine-