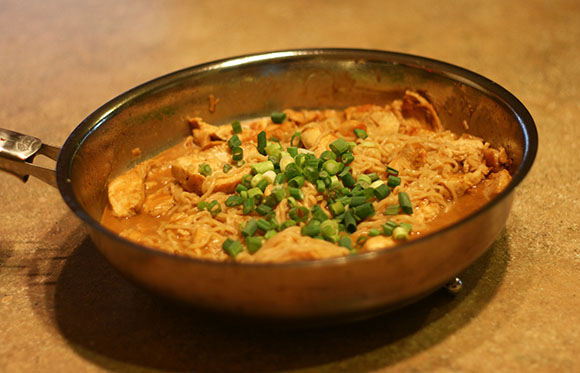 This Ramen Noodles with Chicken recipe is sure to give to life to a boring package of Ramen Noodles.  Browning the chicken adds a ton of flavor and helps to create a delicious sauce.  Feel free to use chunky peanut butter or some chopped peanuts.
Ingredients:
1 Tablespoon Olive Oil
1 Chicken Breast
1 Package Oriental Ramen Noodles
1 Tablespoon Soy Sauce
2 Tablespoons Peanut Butter
2 teaspoons Sriracha chili sauce
2 Green Onions, thinly sliced
Heat olive oil in a large skillet over medium/high heat.  Once hot add the chicken breast.  Cook about 5 minutes on each side until almost cooked through.  Remove from pan, slice thinly and return to the skillet.  Finish browning the chicken slices over medium/high heat.
While the chicken is cooking, prepare the noodles.  Bring 2 cups of water to a boil, add noodles and boil for 3 minutes.  Add the flavor packet from the Ramen package, soy sauce, peanut butter and Sriracha chili sauce.  Stir to combine.
Add some of the liquid to the skillet with the chicken.  Work with a wooden spoon to scrape up all the brown bits of deliciousness from the bottom of the pan.  Pour in the noodles and remaining liquid.  Toss to combine.
Top with sliced green onions before serving.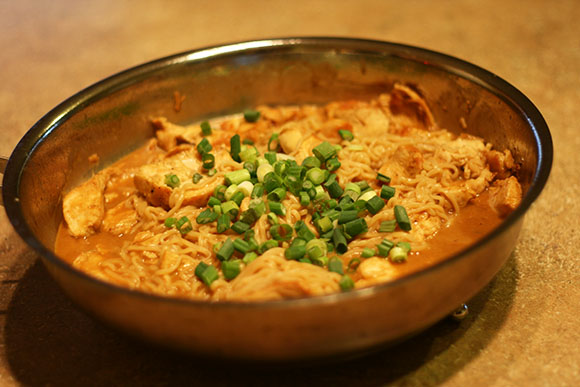 Serves: 3-4

-Adapted from a recipe found on marthastewart.com-