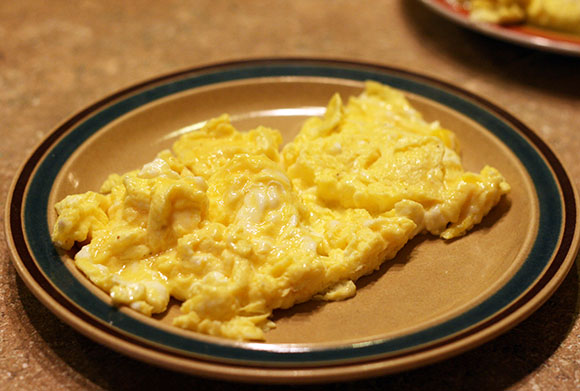 Have you made scrambled eggs before?  I have made them a million times, but they are always dry, browned and just kind of blah.  I had no idea I was making them wrong all this time.  I've been over beating them and over cooking them for years.  America's Test Kitchen opened my eyes to a whole new world of delicious and moist scrambled eggs.  I never knew eggs could be this good.  So, stop over beating your eggs and stop over cooking your eggs!  Try cooking up some amazing scrambled eggs and see what you have been missing.  Enjoy…seriously!
Ingredients:
8 Large Eggs
1/4 Cup Half-and-Half
1/2 teaspoon Salt
1/8 teaspoon Pepper
1 Tablespoon Unsalted Butter
In a large bowl, combine eggs, half-and-half, salt and pepper together and beat lightly with a fork.  Don't over beat, just bring it together.
Heat the butter in a non-stick skillet over medium-high heat.  Tilt the pan to coat the entire bottom of the pan with butter.  Add egg mixture.  Using a rubber spatula, gently push the eggs around the pan.  Turn heat down to low after about 90 seconds.  Once the eggs are clumped into a mound, they are done.  They will take about 2 minutes total to cook.  They should still be shiny and very moist.
Serve immediately.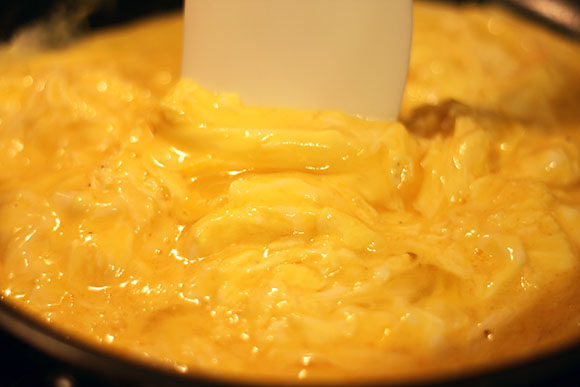 Serves: 4
-Recipe from America's Test Kitchen-