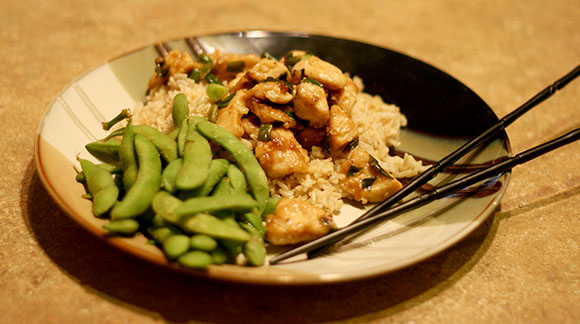 General Tso's Chicken is a delicious at-home take out meal with a great honey ginger sauce.  Who knew Chinese food could be made so easily at home.  Now when you are craving Chinese food, you can make General Tso's Chicken at home!
Ingredients:
1 Egg White
5 Tablespoons Cornstarch
1 Tablespoon plus 2 1/2 teaspoons Soy Sauce
1 teaspoon Ground Ginger
1 lb Boneless, Skinless Chicken Breasts, cut into bite size pieces
1 teaspoon Sesame Oil
1 1/2 teaspoons Honey
1 1/2 Tablespoons Rice Vinegar
3 Tablespoons Canola Oil
1 Bunch Green Onions, thinly sliced
2 Cloves Garlic, minced
Whisk together the egg white, 4 Tablespoons cornstarch, 1 teaspoon soy sauce and 1/2 teaspoon ginger together in a medium bowl.  Add chicken to the bowl and coat completely.
Combine sesame oil, 1 1/2 Tablespoons soy sauce, 1 Tablespoon cornstarch and 1/2 teaspoon ginger, honey and vinegar together in a small bowl.
Heat wok or large skillet over medium/high heat.  Heat 1 1/2 Tablespoons canola oil in the skillet.  Add half the chicken pieces, cooking until no longer pink.  Reserve on a plate and repeat with the remaining chicken.
Add green onions to the skillet and cook for 1 minute.  Add sesame oil mixture and reserved chicken to the skillet.  Stir to combine and let heat through.
Serve with brown rice and edamame.
Serves: 4
-Recipe from Rachael Ray Magazine-