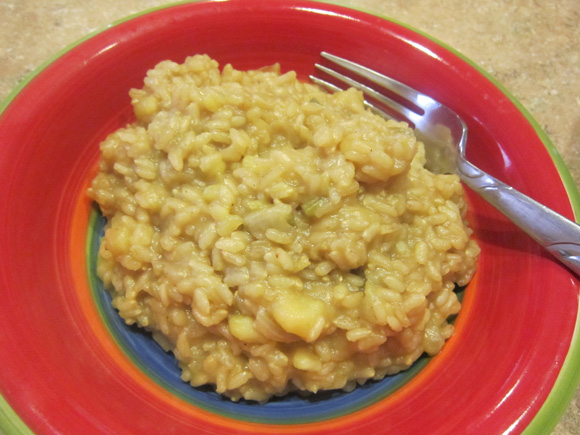 Risotto and sweet potatoes are two of my favorite things. Put them together and it's a heavenly dish! This risotto would be good with any type of sweet potato.
Ingredients:
5 Cups Chicken or Vegetable Stock
1-2 Tablespoons Extra-Virgin Olive Oil
1 Onion, Chopped
1 Stalk Celery, diced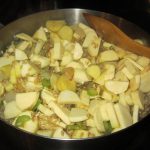 2 Cups Short Grain Brown Rice
1lb Sweet Potatoes, peeled and cubed
1 Clove Garlic, finely grated
Salt & Pepper
Nutmeg, freshly grated
2 Tablespoons Butter
Heat the stock in a sauce pan and keep warm over low heat.
Heat the olive oil in a large skillet over medium-high heat. Add the onion and celery. Cook until softened, about 3-5 minutes. Add the rice and sweet potatoes, cooking 2-3 minutes to toast the grains. Add the garlic and cook for 1 minute.
Start adding the stock, 1-2 ladlefuls at a time. Stir frequently until almost all of the liquid is absorbed before adding more stock. Keep adding stock until the rice is softened and creamy. This will take about 45 minutes with brown rice.
Remove from heat and season with salt and pepper to taste. Add a little nutmeg and stir in the butter.
Serves: 4