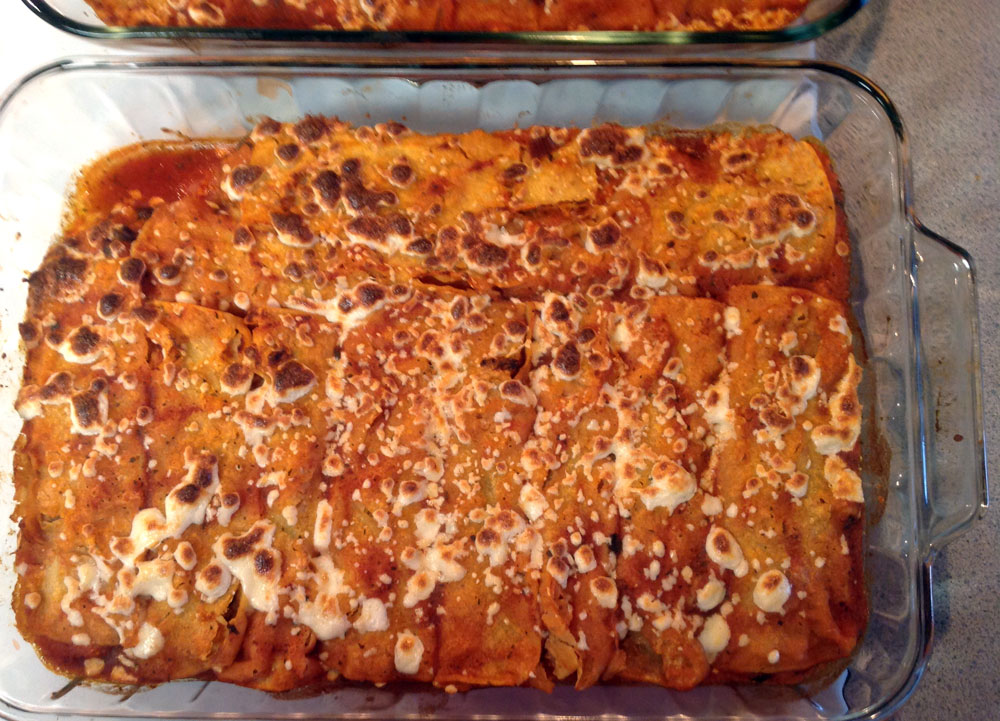 The adobo adds a smoky/sweet, almost barbeque flavor to these delicious enchiladas. I needed two 9×13 pans to hold all of the enchiladas, the original recipe only called for one. It also says you can assemble the day before and then bake the next day.
Filling:
1 tbls olive oil
1 small onion, diced (1 cup)
1 ½ lbs sweet potatoes, peeled and small diced (3 cups, but mine ended up more like 4-5 cups)
15oz can diced tomatoes
16 oz jar mild or medium prepared salsa
2 cloves garlic, minced (2 tsp)
1 large or 2 small chipotle chiles in adobo sauce, drained (save the sauce!) and minced
1 ½ 15oz cans black beans, rinsed and drained (about 2 cups)
1 10oz round queso fresco, crumbled and divided
To make filling:
Heat oil in large skillet (with lid) or saucepan over medium heat. Add onion and cook 3-5 minutes or until soft. Add sweet potatoes, tomatoes, salsa, garlic, chipotle, and ½ cup water; bring to a boil. Reduce heat to medium-low and cover, simmering for 30-40 minutes or until potatoes are soft. Remove from heat and mash mixture with potato masher, (or do like I did and use the immersion blender on a low speed) until combined, but still slightly lumpy. Stir in black beans and ½ of queso.
Sauce:
2 8 oz cans tomato sauce
2 cups vegetable stock
1 tsp chili powder
1 tsp garlic powder
1 tsp onion powder
as much of the sauce as you can get (1-2 Tbls) of adobo sauce from the can
1 tiny chipotle chile (in adobo) seeded and minced teeny tiny
To make sauce:
Bring all ingredients to a simmer in saucepan over medium heat. Stir to combine and turn off heat.
Enchiladas:
20 6" corn tortillas
sauce
filling
other half of queso fresco (5 oz crumbled)
To assemble:
Preheat oven to 350*F. Brush or spray two 9×13 baking dishes with oil. Spread ½ cup sauce in each pan. Dip a tortilla in warm sauce, fill with ½ – ¾ cup of filling, roll and place seam side down in pan. Repeat with remaining tortillas and filling. Equally divide and pour remaining sauce over enchiladas in pans. Sprinkle with remaining cheese. Bake 15 minutes. Adjust oven to broil, and broil 4-5 minutes or until cheese is browned. Let rest 10 minutes before serving.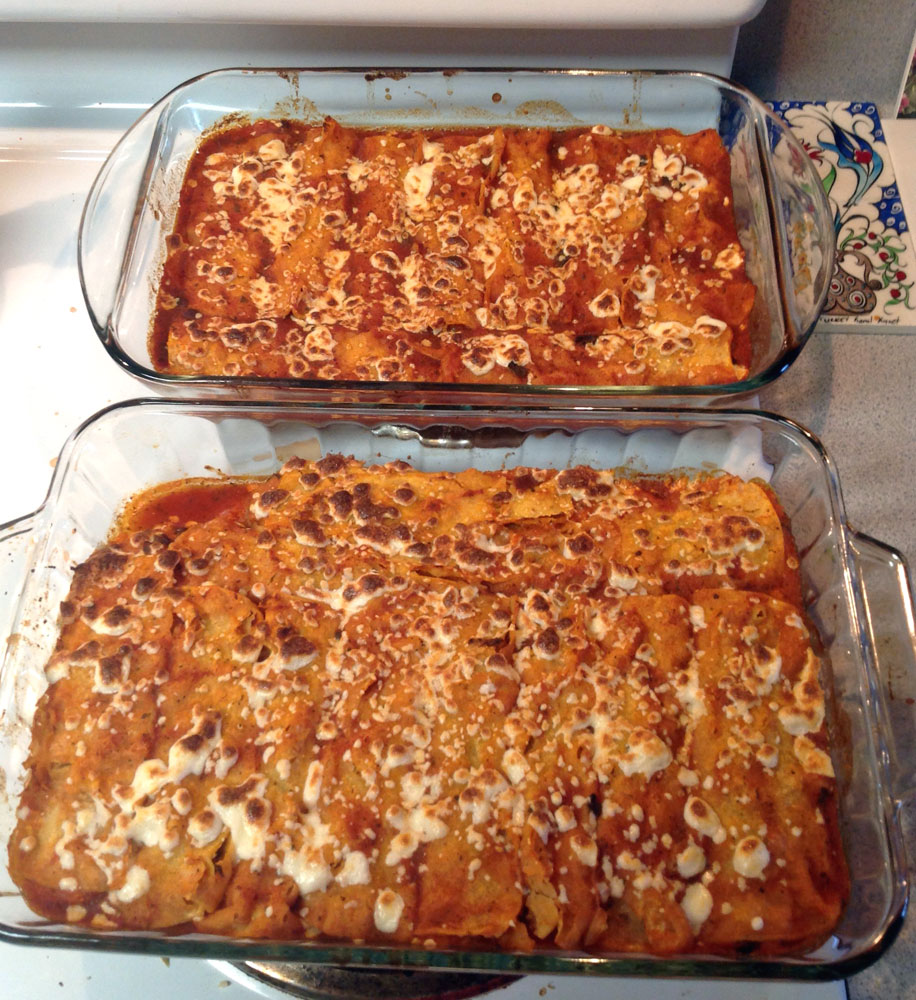 Serves: 10 (2 enchiladas per serving)
-Adapted from Vegetarian Times Dec 2011-