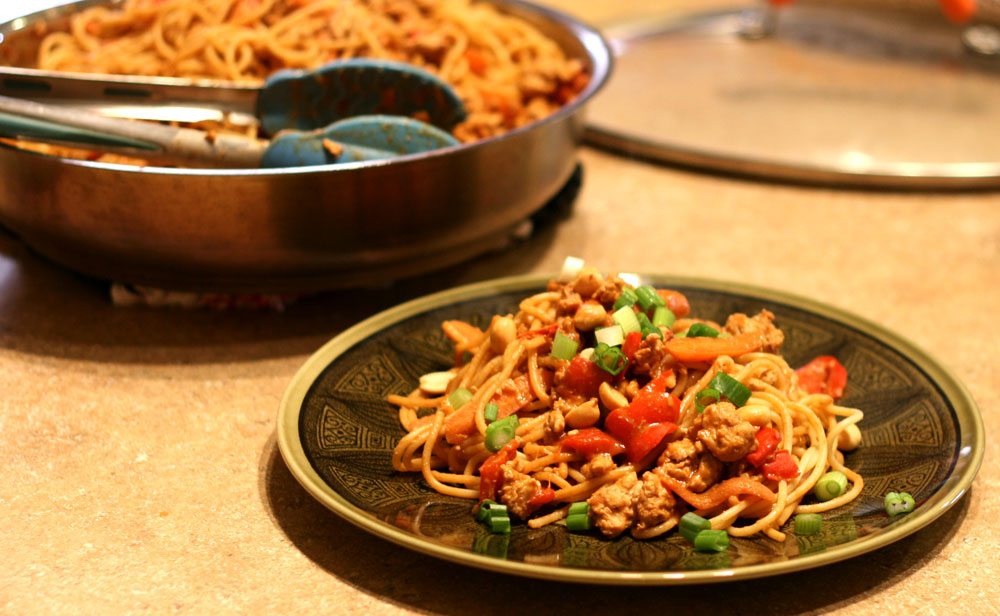 Ingredients:
1/4 Cup Creamy Peanut Butter
1/2 Cup Chicken Broth
1/4 Cup Lemon Juice
1/4 Cup Soy Sauce
4 teaspoons Sriracha Hot Chili Sauce
1/4 teaspoon Crushed Red Pepper Flakes
12 oz Spaghetti
1 lb Ground Chicken
1 1/2 Cups Julienned carrots
1 Red Bell Pepper, chopped
1 Garlic Clove, minced
1/2 Cup Unsalted Peanuts, finely chopped
4 Green onions, chopped
Bring a large pot of water to a boil, add salt and cook spaghetti. Drain.
Whisk together peanut butter, broth, lemon juice, soy sauce, Sriracha and crushed red pepper together in a small bowl.
Heat a large skillet over medium heat. Add chicken, carrots, bell pepper and garlic. Cook until chicken is browned, about 5 minutes.
Add the sauce to the skillet and bring to a boil. Reduce heat and simmer until thickened, about 3-5 minutes. Gently fold in cooked spaghetti.
Serve with peanuts and green onions on top.
Yield: 4-6 Servings
-Recipe from Taste of Home magazine-