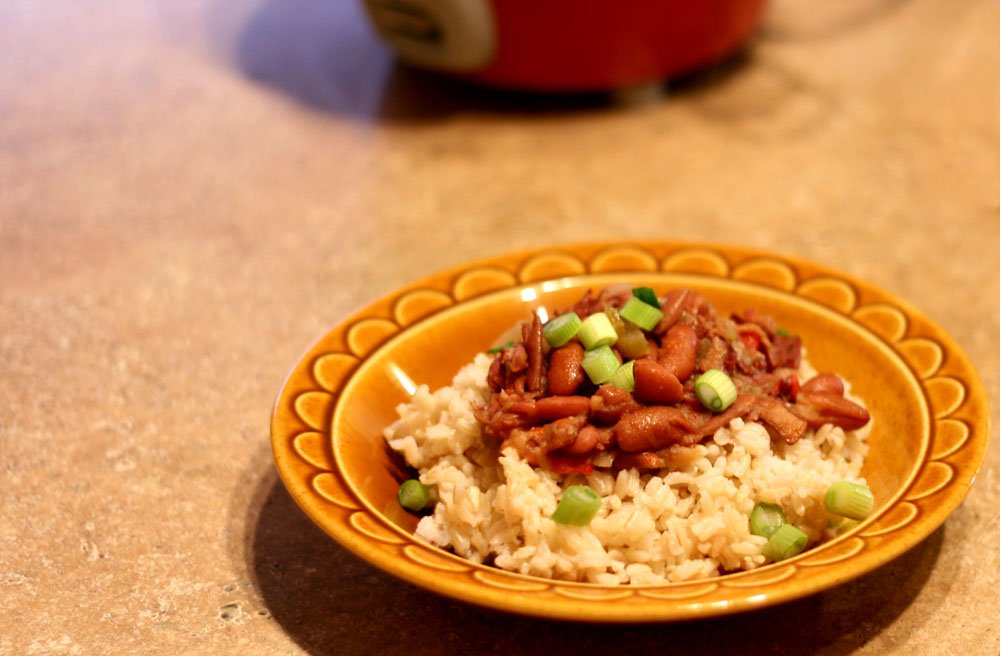 This was really delicious and bacon-y. The only problem is that it didn't make enough. Next time I would probably double it. Enjoy!
Ingredients:
1/2 lb Red Kidney Beans, soaked at least 8 hours and drained
4 oz Bacon, chopped
1/2 Onion, diced
1/2 Red Bell Pepper, diced
2 Celery Stalks, diced
Salt and Pepper
1/8 teaspoon Cayenne Pepper
2 Cloves Garlic, minced
2 Bay Leaves
Brown Rice, for serving
Green Onions, for garnish
Heat a large pot over medium heat, add bacon and cook until crispy. Remove bacon from the pot with a slotted spoon and reserve on a plate.
Add onion, bell pepper, celery, salt and pepper and cayenne pepper to the pot with the bacon fat. Cook until softened, about 3-5 minutes. Add garlic and cook for 1 minute.
Add beans, bacon, 4 cups water and bay leaves. Bring to a boil, simmer and cook covered for 1 hour.
Mash 1/2 the beans with a spoon or potato masher. Simmer for about 20 minutes.
Serve over rice with green onions on top.
Yield: 3-4 Servings
-Recipe from 100 Days of Real Food–
Please follow and like us: