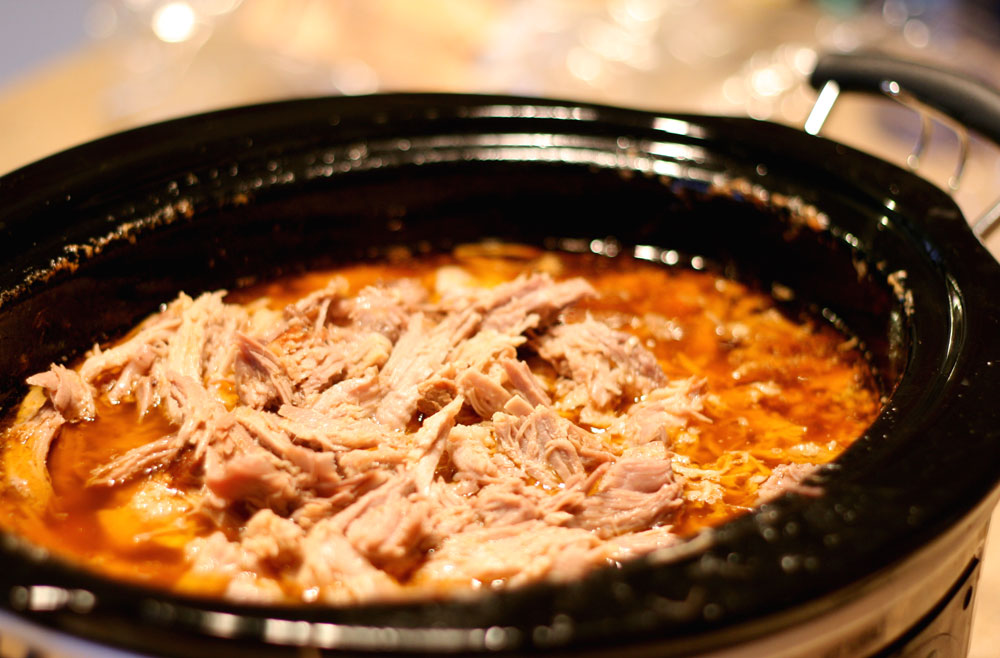 This pulled pork was so so so good. I was really hoping that Owen (2 ½ years old) would try this. I kept telling him that it was cooked in soda, but he still wouldn't try it. The rest of us loved it though. I even made it again the next week. We had it as sandwiches on rolls and bread, in a pasta dish, in a tortilla, in a salad and on it's own.
Ingredients:
2 Onions, quartered
1 Whole Pork Butt (pork shoulder roast)
Salt and Pepper
2 (7oz) Cans Chipotle Chiles in Adobo Sauce
24 oz Dr Pepper
4 Tablespoons Brown Sugar
Arrange the onions in the bottom of a slow cooker. Place the pork butt on top of the onions and season with salt and pepper. Pour the cans of chipotles on top then add the Dr Pepper. Put the brown sugar down in the liquid next to the pork.
Cook until the pork is 160°F, about 7 hours on low.
Shred the pork, removing large chunks of fat. You can decide what you want to do with the chipotles and onions. I just removed them and put the shredded pork back into the slow cooker to keep it warm.
Yield: A lot…like 12 servings or more
-Recipe slightly adapted from The Pioneer Woman Cooks cookbook-
Please follow and like us: