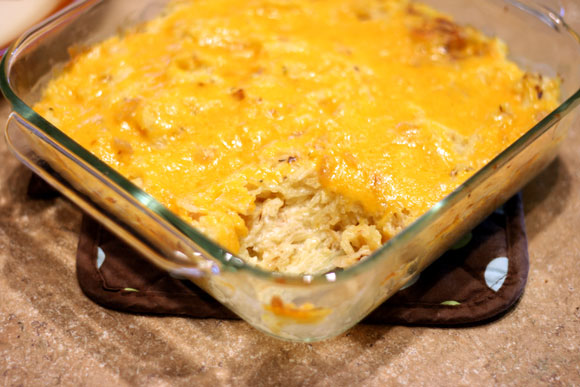 If you are looking for a creamy and cheesy side dish, then give Spaghetti Squash Au Gratin a try.
Ingredients:
1 Medium Spaghetti Squash
2 Tablespoons Butter
1 Small Onion, chopped
1/4 teaspoon Red Pepper Flakes
1/2 teaspoon Dried Thyme
1/2 Cup Sour Cream
1/2 Cup Shredded Cheddar Cheese
Preheat oven to 375°F.
Cut several holes in the spaghetti squash and place on a microwave-safe plate.  Heat in microwave until soft, about 10 minutes.  Turn squash over halfway through.
Melt butter in a skillet over medium heat.  Add onion, red pepper flakes and thyme.  Cook until onion is browned.  Season with salt and pepper.
Cut squash in half and discard seeds.  Scrape out the squash with a fork.
In a large bowl, combine squash, onions, sour cream and 1/4 Cup cheddar cheese.
Pour spaghetti squash mixture into a buttered 8×8 inch dish.  Top with remaining cheese and bake until golden brown, about 15-20 minutes.
Yield: about 6 servings
-Recipe from Dandy Dishes–