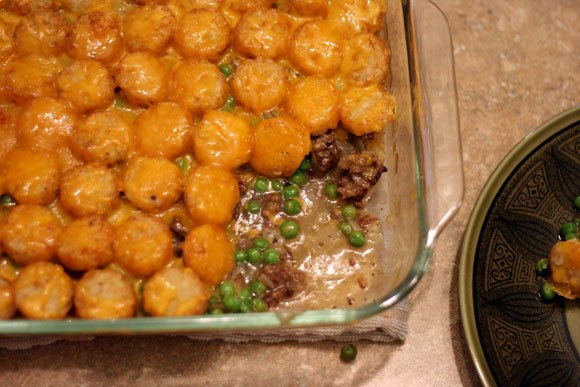 I used to make a (not so good) version of this when I first got married. It was made of raw ground beef smashed in the bottom of the pan, raw onions, frozen veggies, cream of mushroom soup, cream of chicken soup and tater tots. This casserole has come a long way and is pretty tasty now!
Ingredients:
1 lb Ground Beef
1 Onion, chopped
2 Cloves Garlic, finely grated
Salt and Pepper, to taste
3 Tablespoons Butter
3 Tablespoons Flour
2 Cups Chicken Stock
12 oz Frozen Peas
1 1/2 Cups Shredded Cheddar Cheese
1 lb Tater Tots or Tater Rounds
Preheat oven to 375°F.
Brown ground beef in a skillet over medium/high heat. Add onion and garlic, cooking until softened. Season with salt and pepper.
Push the beef mixture to the sides of the pan and add butter to the pan. Once the butter is melted, sprinkle on the flour and whisk for 1 minute. Whisk in chicken stock, bring to a bubble, reduce heat to thicken sauce. Stir in peas.
Pour beef mixture into a lightly greased casserole dish (9X13 size). Top with tater tots.
Bake until tater tots are golden brown, about 30-40 minutes.
Top with cheese and return to oven to melt cheese for a few minutes.
Yield: about 6 serivings