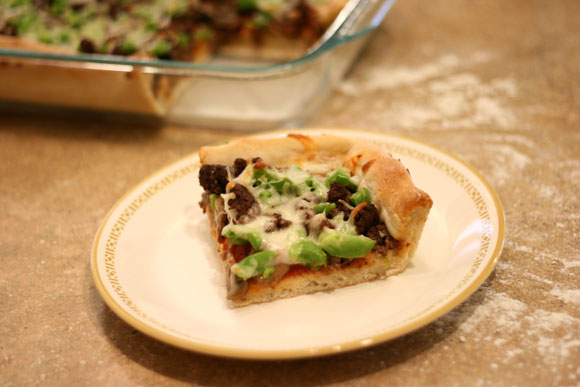 Deep Dish Pizza made in a casserole dish.  Try mixing it up with your favorite toppings.
Ingredients:
Pizza Dough, enough for one pizza – see my pizza dough recipe here1 Tablespoon Extra Virgin Olive Oil
1 lb Ground Beef
4 oz Mushrooms, sliced (canned or fresh)
1/2 Cup Pizza Sauce
1/2 Green Bell Pepper, diced
1 Cup Mozzarella Cheese, shredded
Preheat oven to 425°F.  Grease a 9 inch by 13 inch casserole dish with non-stick cooking spray.
Press dough on bottom of casserole dish and halfway up the sides of the pan.
Heat olive oil in a skillet over medium-high heat.  Add ground beef, cooking until browned.  When the beef is almost done, add the mushrooms.  Drain on paper towels.
Spread sauce onto pizza dough.  Top with beef and mushrooms, bell pepper and cheese.  Bake until golden brown, about 20-25 minutes.
Yield: 9 inch x 13 inch deep dish pizza/about 6 servings