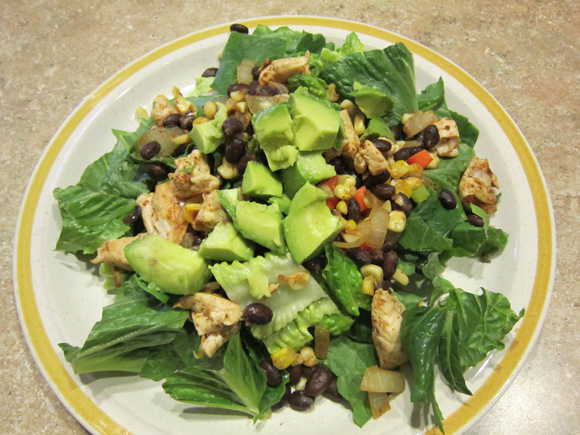 Here is a quick salad for an easy weeknight dinner.
Ingredients:
1 Tablespoon Extra-Virgin Olive Oil
2 Chicken Breasts, cut into bite sized pieces
1 Onion, chopped
1 Cup Frozen Corn
1 Tablespoon Taco Seasoning
1 Can Black Beans, drained rinsed
Romaine Lettuce
1 Avocado, cubed
Salad Dressing of choice
Heat the olive oil in a large skillet over medium high heat.  Once hot, add the chicken, onion and corn.  Cook until chicken is thoroughly cooked.  Season with taco seasoning.
Add the black beans and cook for a couple minutes to heat.
Serve over lettuce with avocado and dressing of choice.
Serves: 2