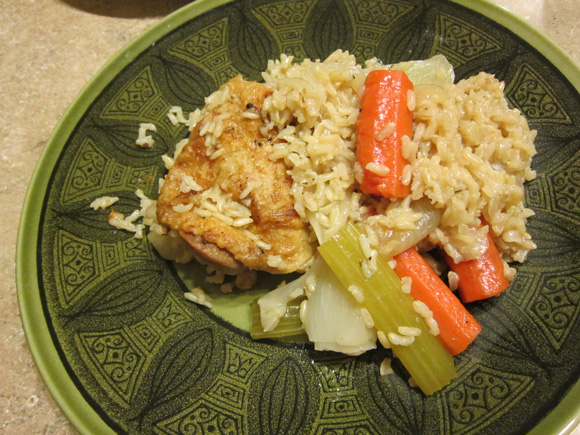 Ingredients:
1 Tablespoon Olive Oil
4 Bone-In, Skin-On Chicken Thighs
Kosher Salt and Freshly Ground Black Pepper
1 Large Yellow Onion, cut into 8 wedges
2 Celery Stalks, cut into 1 1/2-inch pieces
2 Medium Carrots, cut into 1 1/2-inch pieces
1 Bay Leaf
1 Cup Brown Rice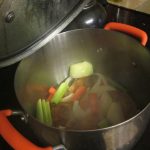 In a large pot, heat the oil over medium-high heat.  Season the chicken with salt and pepper.  Place the chicken skin side down in the pot.  Cook until browned on both sides, about 5 minutes per side.
Add the onion and celery, cover and cook on low for 20 minutes.
Add the carrots, bay leaf, 1 3/4 cups water, rice, salt and pepper.  Bring to a bubble over high heat, reduce heat and simmer covered until the rice is cooked, about 45 minutes.
Serves: 4
-Recipe comes from MarthaStewart.com–
Please follow and like us: