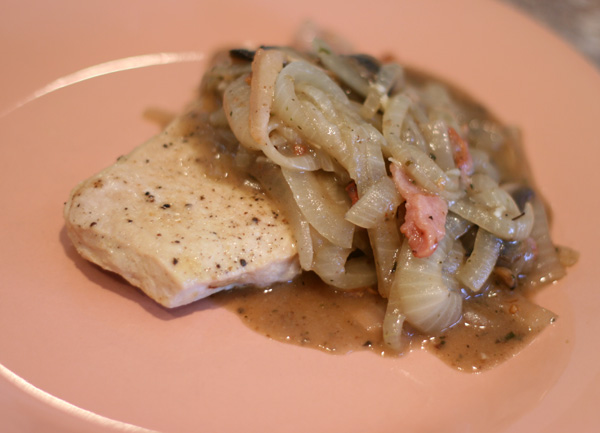 Pork with a side of pork; yes please!  These Smothered Pork Chops have a delicious bacon infused sauce with sliced onions and mushrooms.  This is one of those fancy looking meals that you could entertain with that actually comes together quickly and easily.  Once everything is in the pan simmering, you have time to clean up dishes and have a clean kitchen at dinnertime.  Well, that's at least what I did while the Smothered Pork Chops were simmering away.  Anything to save some clean up time after dinner.  You could serve sweet potatoes or acorn squash alongside to make Smothered Pork Chops a fall favorite.
Ingredients:
3 Slices Bacon, sliced
2 Tablespoons Flour
2 Cups Chicken Broth
2 Tablespoons Olive Oil, divided
4 Boneless Pork Chops
Kosher Salt and Freshly Ground Black Pepper
1 Large Onion, thinly sliced
8 oz White Mushrooms, sliced
2 Cloves Garlic, minced
1 teaspoon Italian Seasoning
Cook bacon in a large sauce pan over medium heat until browned, about 5 minutes.  Remove bacon with a slotted spoon and reserve on a paper towel lined plate.
Sprinkle flour over the bacon grease over medium/high heat and whisk to combine.  Cook until lightly browned.  Whisk in chicken broth, bring to a bubble and turn off the heat.
In a large pot, heat 1 Tablespoon olive oil.  Season the pork chops on both sides with salt and pepper.  Add to the pot and brown on both sides, about 6 minutes total.  Reserve on a plate.
Add 1 Tablespoon olive oil to the pot and heat over medium heat.  Add onion, mushrooms and 1/4 teaspoon salt.  Cook until softened, about 5 minutes.  Add garlic and Italian seasoning.  Return the pork chops to the skillet, along with any juices from the plate.  Cover with the onion and mushroom mixture.  Pour the sauce over the pork chops.  Reduce heat to low, cover and simmer until the pork chops are cooked, about 25-30 minutes depending on the thickness of the pork chops.
Once the pork chops are cooked, reserve on a plate and lightly tent with foil.
Add the bacon to the pot and increase heat to medium/high to thicken sauce.
Serve pork chops with the onion and mushroom sauce on top.
Yield: 4 Servings
-Recipe adapted from Cook's Illustrated Magazine-