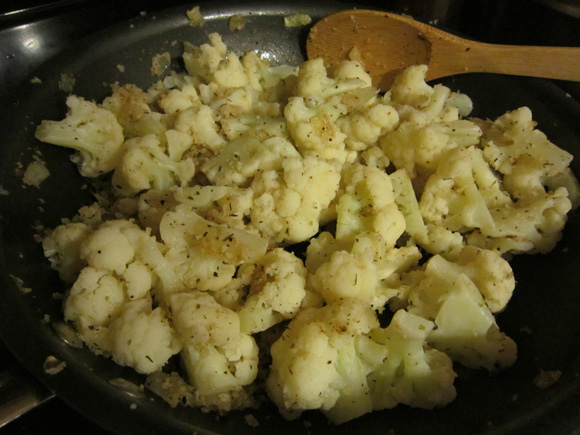 This is a delicious cauliflower side dish that is sure to go well with almost any main dish!
Ingredients:
1 Head Cauliflower, cut into florets
4 Tablespoons Butter, divided
1 Onion, chopped
1/2 Cup Italian Seasoned Bread Crumbs
Salt and Pepper
Bring 2 Cups water to a boil in a large skillet.  Add cauliflower florets and boil until tender.  Drain and set aside.
Melt 1 Tablespoon butter in the same skillet over medium high.  Brown onion, about 3-5 minutes.  Add remaining 3 Tablespoons butter and melt.  Stir in bread crumbs, coating with melted butter.
Add cauliflower back to the skillet and heat though, 3-5 minutes.  Season to taste with salt and pepper.
Yield: 4-6 Servings
-Recipe from AllRecipes.com–