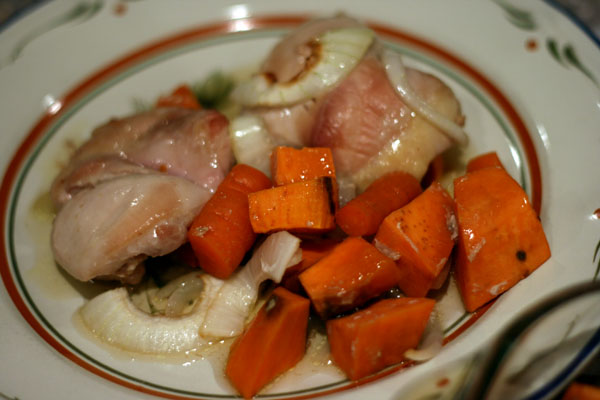 Dinner doesn't get much easier than this!  Just throw it all in the oven and let it cook.  I love that!  You might notice that I didn't cut my potatoes and carrots to 1 inch cubes like the recipe states.  Make sure you really do cut them that small or they will be undercooked like mine were.  The real maple syrup in this dish makes a wonderfully sweet glaze for the chicken and veggies.  Chloe was really excited when I told her we were having chicken with maple syrup for dinner!  I hope you enjoy this Maple Roasted Chicken Thighs and Sweet Potatoes recipe!
Ingredients:
2 3/4 lbs Boneless Skinless Chicken Thighs (about 10 thighs)
1 lb Sweet Potatoes, peeled and cut into 1 inch pieces
3 Carrots, cut into 1 inch slices
1 Onion, thinly sliced
1/4 Cup Maple Syrup
Preheat oven to 375°F.
Place all ingredients in a casserole dish.  Toss to combine.
Bake for 30 minutes, or until chicken is cooked and veggies are tender.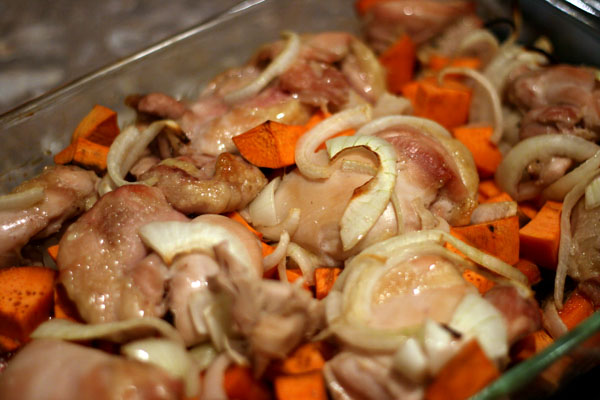 Serves: 4
-Recipe adapted from a recipe from Good Housekeeping-