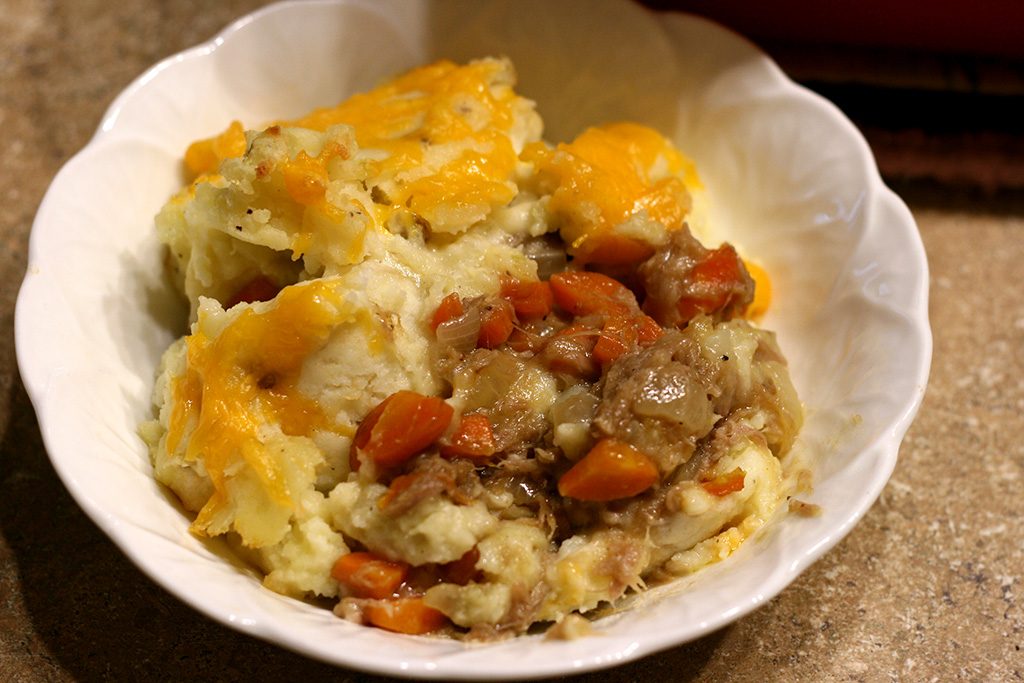 I've been making shredded pork once a week for a few months now and I am always looking for ways to use the extra pork. It had been a really long time since I made shepherd's pie, so I gave it a try with shredded pork. I decided to keep the veggies simple and just use onion and carrots. Everything came together so well and it was really an awesome shepherd's pie. This will definitely be a regular meal in my house. I'm even going to call it kid friendly since 3 out of 4 of my kids liked it. Winner, winner…pork for dinner.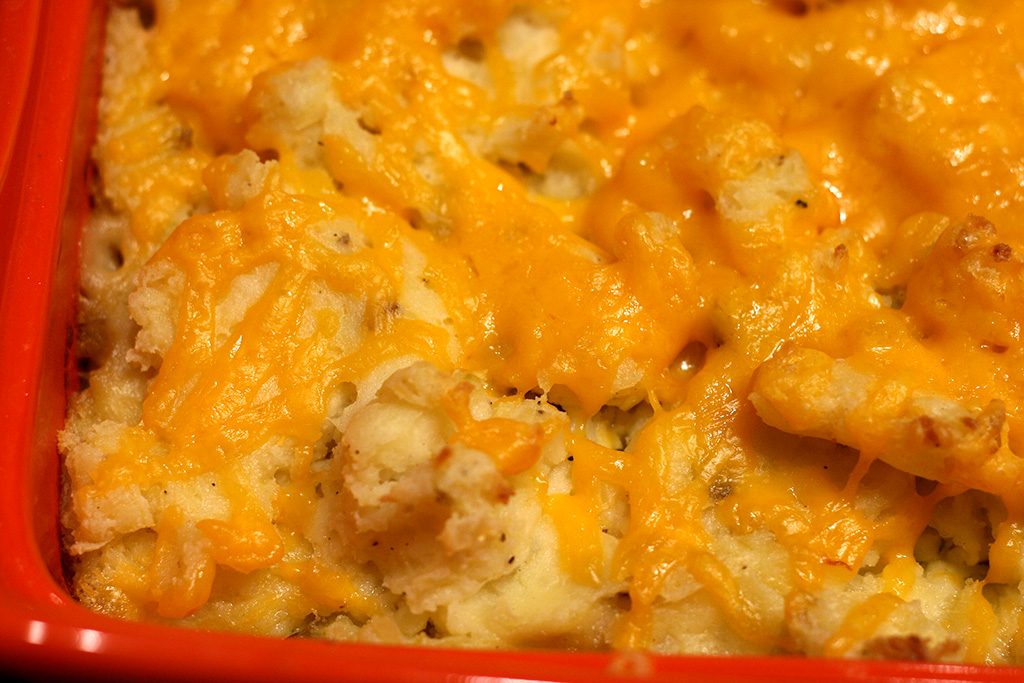 Ingredients:
2 ½ lbs russet potatoes
8 oz cream cheese, softened
4 Tablespoons butter, softened
1 teaspoon garlic powder
½ teaspoon salt
¼ teaspoon black pepper
1-2 Tablespoons olive oil
1 medium onion, chopped
4 carrots, chopped
2 cups shredded pork
2 Tablespoons butter
2 Tablespoons flour
1 cup chicken broth
1 teaspoon Worcestershire sauce
Salt & pepper
1 cup shredded cheddar cheese
Preheat oven to 350°F.
Fill a large pot with water. Peel and chop potatoes into small pieces and place in water. Bring water to a boil over high heat, reduce to low and simmer until potatoes are softened, about 15 minutes.
While the potatoes are boiling, heat olive oil in a large skillet over medium high heat. Sauté onion and carrots until tender, about 5-7 minutes. Stir in shredded pork. Move pork mixture to the edges of the pan and add butter to the center. Once melted, whisk in flour and cook for about 1 minute. Slowly whisk in broth and season with Worcestershire, salt and pepper. Bubble for a few minutes to thicken.
When potatoes are softened, drain and return to pot. Add cream cheese, butter, garlic powder, salt, and pepper. Mash with a potato masher until smooth.
Pour pork filling into a casserole dish. Cover evenly with mashed potatoes and top with shredded cheese. Bake for 30 minutes. Brown under broiler for a few minutes.
Yield: 6-8 servings