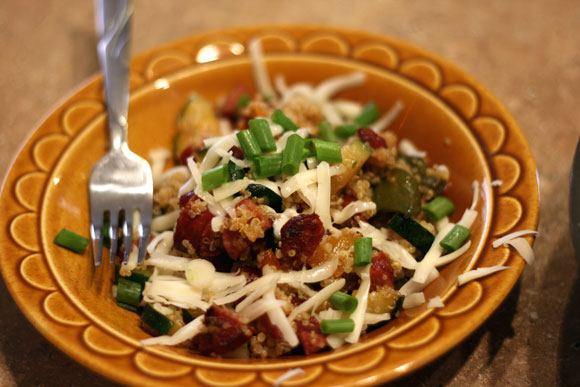 Sausage and Vegetable Quinoa is packed with healthy ingredients. Try mixing it up with any vegetables you have on hand.
Ingredients:
1/2 Cup Quinoa
2 teaspoons Extra Virgin Olive Oil
13 oz Smoked Sausage, chopped
2 Zucchini, chopped
1 Large Bell Pepper (any color), chopped
2 Cloves Garlic, finely grated
Salt & Pepper, to taste
Shredded Monterey Jack Cheese, for topping
4 Green Onions, sliced
Rinse Quinoa in a fine mesh strainer. Heat olive oil in a small saucepan over medium/high heat. Add quinoa to pan and cook, stirring frequently, for 1 minute. Add 1 cup water and a pinch of salt. Bring to a boil, reduce heat to low and cover pan. Let quinoa cook for 15 minutes. Turn off heat and let sit 5 minutes covered. Fluff with a fork.
While the quinoa is cooking, brown the sausage in a large skillet over medium/high heat. Add zucchini, bell pepper, garlic and season with salt and pepper. Cook until the veggies are softened, about 7-10 minutes.
Add cooked quinoa to the skillet, stir to combine.
Serve with shredded cheese and green onions on top.
Yield: 4 Servings