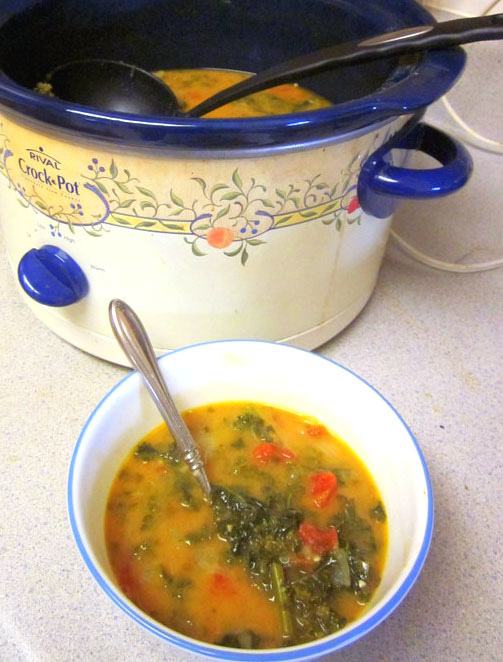 This soup is creamy, spicy, and flavorful. It is a favorite in our house! You can cook it in the slow cooker or on the stove.
Ingredients:
1 Tbsp canola oil
1 onion, diced (or thinly sliced)
2 garlic cloves, minced
1 tsp grated fresh ginger
6 cups reduced sodium vegetable broth
½ cup creamy natural peanut butter
1 (14.5 oz) can diced tomatoes
1 tsp salt
1/8 tsp red pepper flakes or cayenne pepper
2 (or more) cups coarsely chopped (or chiffonade) kale
½ cup loosely packed fresh cilantro leaves
Heat oil in medium skillet (if using slow cooker –if cooking on stove use a soup pot) over medium heat. Add onion and cook, stirring frequently, until softened, about 5 minutes. Add garlic and ginger, cook stirring constantly until fragrant about 30 seconds.
For slow cooker: Transfer to 3-4 quart slow cooker. (For stove top, leave it in the pot!) Whisk together 1 cup broth and peanut butter until smooth, then add to slow cooker or pot. Stir in remain broth, tomatoes, salt, and red pepper. Cover and cook in slow cooker 4-6 hours on high, 8-10 hours on low or 30-45 minutes at a simmer on stove top.
Stir in kale and cilantro about 5 minutes before serving. (You can garnish with sour cream, chopped peanuts and a few extra cilantro leaves, not counted in points.)
Serves 8
– from Weight Watchers 360* Veg Power! Cookbook – Weight Watchers Points Plus 4 points per 1 cup serving
Please follow and like us: