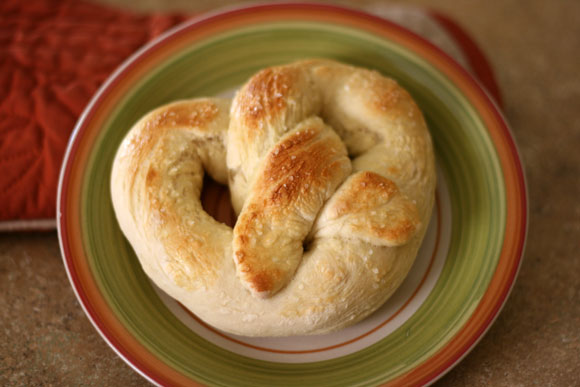 These Quick Soft Pretzels are super easy to make and only take about 30 minutes.  They  have a more bread-like consistency than regular pretzels do, but are great for a sudden soft pretzel craving.
Ingredients:
1 1/2 Cups Warm Water
2 1/4 teaspoons Active Dry Yeast
1 teaspoons Salt
1 Tablespoon Sugar
4 – 4 1/2 Cups All Purpose Flour
1 Egg
Coarse Sea Salt, for sprinkling
Preheat oven to 425°F.  Line a baking sheet with foil and spray with non-stick cooking spray.
Combine warm water and yeast, stirring until almost completely dissolved.  Stir in salt and sugar.  Slowly add flour and mix with a wooden spoon until a thick dough forms and the dough is not sticky.
Knead dough on a floured surface for about 5 minutes.  Divide dough into 8 equal pieces.  Roll dough into long ropes and form into a pretzel shape.  Place on prepared baking sheet.
Beat the egg in a small bowl and brush over the pretzels.  Sprinkle with coarse sea salt.
Bake for 10 minutes.  Turn on the broiler and bake until the pretzels turn golden brown, about 5 minutes.
Yield: 8 Pretzels
-Recipe from Sally's Baking Addiction–