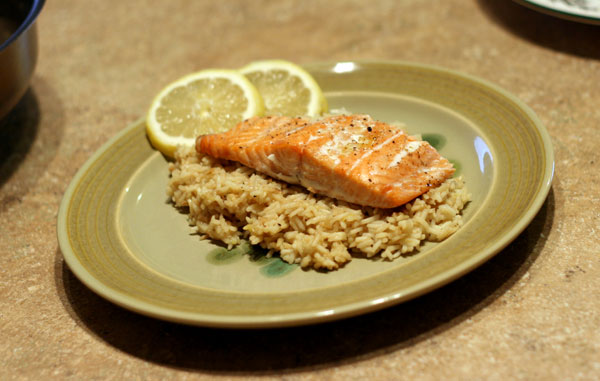 I think I've said this a million times before, but I love risotto! Cooking risotto involves a lot of stirring and adding warmed broth slowly. It gives the rice a nice creamy consistency that is just so tasty.
Ingredients:
3-3 1/2 Cups Chicken Broth
4 Tablespoons Olive OIl, divided
2 Cloves Garlic, minced
1 Cup Rice (Arborio, white, short grain brown)
2 teaspoons Lemon Zest
Salt and Freshly Ground Black Pepper
Salmon, about 1.25lbs
Preheat oven to 400°F.
Simmer broth in a small saucepan.
Heat 2 Tablespoons oil in a large saucepan over medium heat.  Add rice and garlic, cooking until rice is lightly browned.  Add a ladle of warm broth to the pan.  Stir and simmer until almost all of the liquid is absorbed.  Keep adding broth and simmering until almost all the liquid is gone and the rice is tender.  White/Arborio rice will take 15-20 minutes and brown rice will take about 45-50 minutes.  Add pepper and lemon zest.
While the risotto is cooking, prepare the salmon.  Place salmon on a foil lined baking sheet.  Drizzle with olive oil and season with salt and pepper.  Bake salmon for about 20 minutes, until it just begins to flake easily with a fork (about 140°F internal temperature).
Serve salmon over the lemon risotto.
Yield: 3-4 Servings