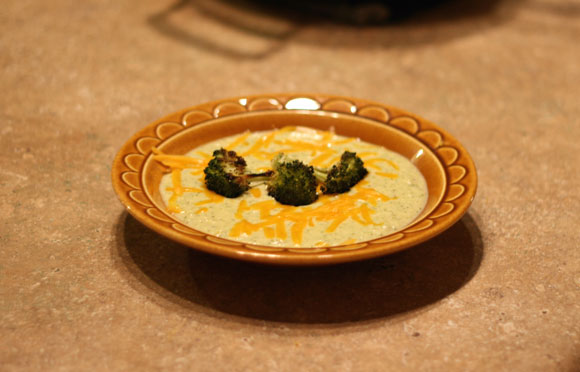 Ingredients:
5 Heads Broccoli (divided), cut into florets
Olive Oil
Salt and Pepper
4 oz Unsalted Butter
1 Onion, diced
1/3 Cup Flour
4 Cups Whole Milk
2 Cups Half-and-Half
Pinch Nutmeg
3 Cups Shredded Cheddar Cheese
Preheat oven to 375°F.
Cut one head of broccoli florets in half and lay cut-side down on a foil lined baking sheet. Drizzle with olive oil and season with salt and pepper. Roast until browned, about 20 minutes.
Melt butter in a soup pot over medium heat. Add onions, cooking until softened. Sprinkle with flour and stir for about a minute. Whisk in milk and half-and-half. Add nutmeg, broccoli and season with salt and pepper. Simmer with the lid on over low heat until the broccoli is tender, about 20 minutes. Stir in cheese until melted.
Puree soup with a blender or immersion blender.
Serve with roasted broccoli on top and additional cheese.
Yield: 8-10 Servings
-Recipe slightly adapted from Food Network-