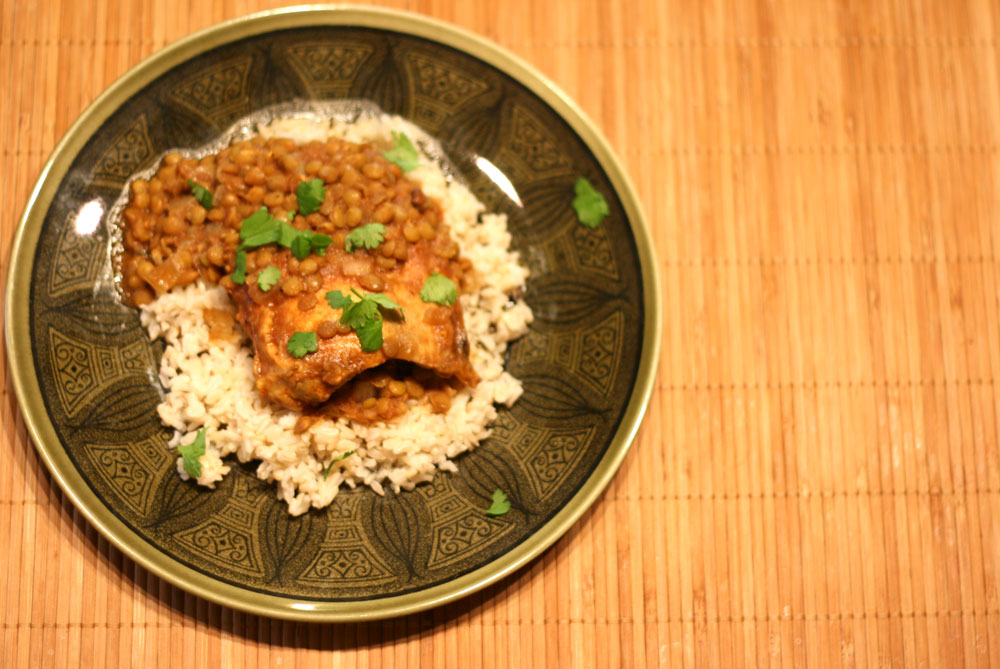 I made this on a very busy Monday.  Monday is typically busy with grocery shopping, swim lessons, home for dinner then off to volleyball with friends.  After grocery shopping I threw everything in the slow cooker while the kids ate lunch.  By the time we got home from swim lessons the house smelled amazing!  It was so delicious.  Chloe, who is 4 ½ now loved it.  This made a lot, so it will be dinner another night this week.  Yum!  Definitely give this one a try.
Ingredients:
3 lbs Boneless Skinless Chicken Thighs
1 ½ Cups Lentils, rinsed
4 Cups Chicken Broth
1 Small Onion, diced
2 Tablespoons Red Curry Paste
½ Tablespoon Garam Masala
1 teaspoon Curry Powder
½ teaspoon Turmeric
1 teaspoon Sugar
1 teaspoon Garlic, minced
1 teaspoon Fresh Ginger, minced
⅛ teaspoon Cayenne Pepper
14 oz Can Tomato Sauce
¼ Cup Canned Coconut Milk
Fresh Cilantro, for garnish
Cooked Rice for serving
Add chicken thighs, lentils, broth, onion, red curry paste, garam masala, curry powder, turmeric, sugar, garlic, ginger, cayenne, tomato sauce and coconut milk to a slow cooker.  Cook on high for 4 hours or low for 7-8 hours.
Serve over rice with cilantro on top.
Yield: 6-8 Servings
-Recipe adapted from Pinch of Yum–