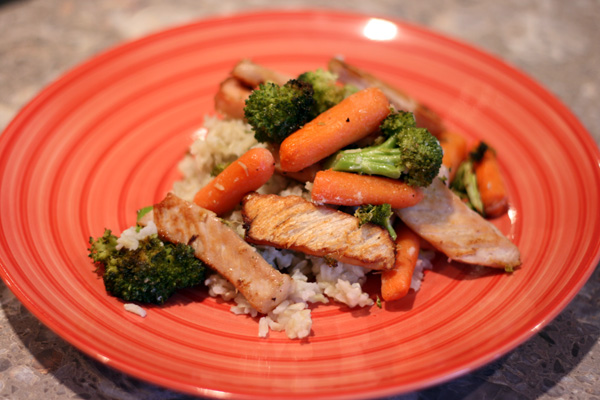 Stir fry just got easier!  Roasted Stir Fry is a quick and easy meal that I'm sure you will love.  Roasting vegetables gives them a delicious flavor and really makes this dish amazing.
Ingredients:
4 Boneless, Skinless Pork Chops
1/3 Cup Soy Sauce
2 Broccoli Crowns, cut into florets
2 Cups Baby Carrots
3 Cloves Garlic, minced
2 Tablespoons Canola Oil
Salt & Pepper
Slice the pork chops into 1/2 inch thick strips.  Place in a zip top bag with soy sauce.  Refrigerate overnight, or at least 4 hours.
Preheat oven to 400°F.
Combine broccoli, carrots, garlic, canola oil, salt and pepper together in a large bowl.  Remove the pork from the marinade and mix with the veggies.  Place all on a baking sheet.
Bake until the pork is cooked and veggies are tender, about 25-30 minutes.
Serve over brown rice.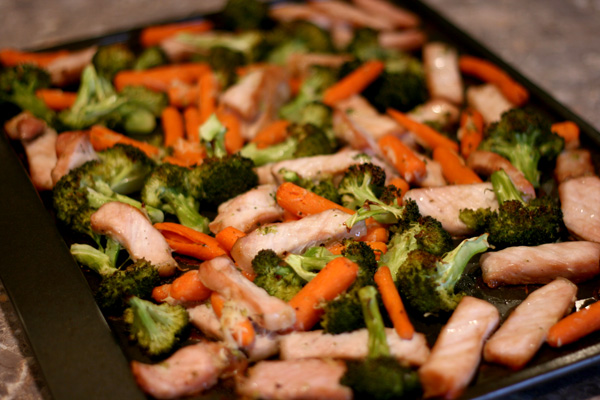 Yield: 4 Servings