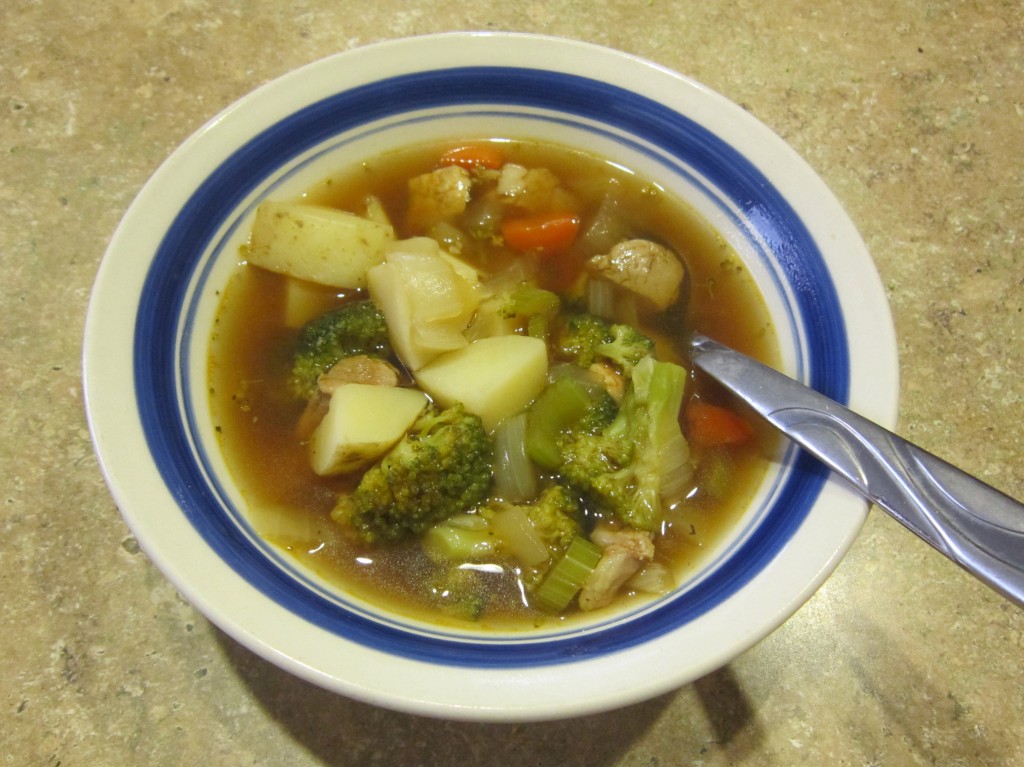 This soup is a great way to stretch a buck since you can feed 4-6 people with only 3 pork chops! Also, it was a great way for me to use up the last 3 pork chops in my fridge. Since the soup is cooked for a couple hours, everything has a nice, rich flavor. This could also be made in the slow cooker. I found this recipe on AllRecipes.com and modified it to my liking.
Ingredients:
3 Bone-In Pork Chops
1 teaspoon Paprika
1 teaspoon Dried Oregano
1 teaspoon Garlic Powder
1/2 teaspoon Salt
1/2 teaspoon Ground Black Pepper
1/2 teaspoon Chili Powder
1 Bay Leaf
3 Cups Chicken Broth
4 Cups Water
2 Tablespoons Soy Sauce
6 Yukon Gold Potatoes, cut into small chunks
3 Cups Chopped Broccoli (about 2 small crowns)
1 Carrot, diced
1 Large Onion, diced
2 Stalks Celery, diced
Put the pork chops in a large soup pot. Sprinkle with the paprika, oregano, garlic powder, salt, pepper, and chili powder. Add the bay leaf, broth and water. Bring to a boil over high heat, reduce heat to medium-low and simmer for 1 hour.
Remove the pork chops and reserve on a plate.
Add the potatoes, broccoli, carrot, onion and celery. When the pork chops are cool enough to handle, remove and discard the bones, chop up the meat and return it to the pot. Bring to a bubble, reduce heat and simmer for 1 hour.
Remove bay leaf before serving.
Serves: 4-6