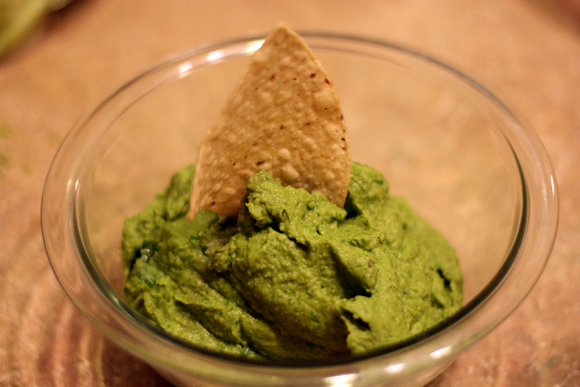 Guacamole meets hummus in this creamy dip.
Ingredients:
1 (15oz) Can Chickpeas, drained and rinsed
3 Cups Fresh Cilantro
1 Garlic Clove
1 Ripe Avocado
3 Tablespoons Extra Virgin Olive Oil
1 teaspoon Lemon Juice
Kosher Salt & Freshly Ground Black Pepper
Blend together the chickpeas, cilantro, garlic and avocado in a food processor.
With the machine on, stream in the olive oil and lemon juice.  Add water, 1 Tablespoon at a time, until smooth.
Season to taste with salt and pepper.
Serve with tortilla chips.
-Recipe from Everyday Food–