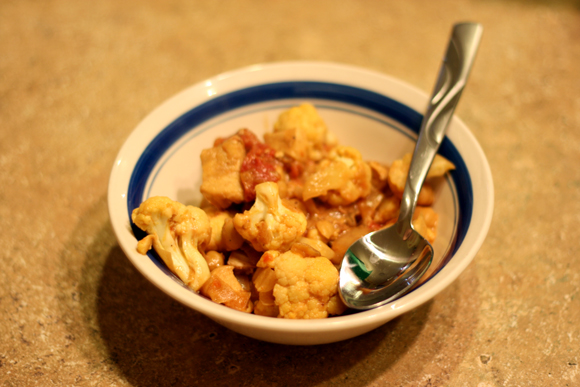 Chicken, cauliflower and curry are just meant to be together.
Ingredients:
1 Tablespoon Extra Virgin Olive Oil
3/4 lb Chicken Breasts, cut into bite sized pieces
1 Onion, Chopped
1 Cloves Garlic, finely grated
1 teaspoon Ground Ginger or about 1 inch freshly grated ginger
1 teaspoon Curry Powder (2 teaspoons if you like a stronger curry flavor)
1 teaspoon Cumin
3 Cups Cauliflower Florets
1 (14oz) Can Diced Tomatoes
1 Can Chickpeas, drained and rinsed
1/4 Cup Chicken Broth
1/4 Cup Sour Cream
Kosher Salt and Freshly Ground Black Pepper
Heat the olive oil in a large soup pot over medium-high heat.  Add chicken and cook until browned.  Add the onion and garlic, cooking until softened.
Stir in the ginger, curry powder and cumin.  Cook for 1 minute.  Add the cauliflower, tomatoes, chickpeas and broth.  Bring to a bubble, reduce heat and simmer until the cauliflower is softened, about 10 minutes.
Stir in the sour cream and season to taste with salt and pepper.
Serves: 4
-Recipe adapted from KraftFoods–