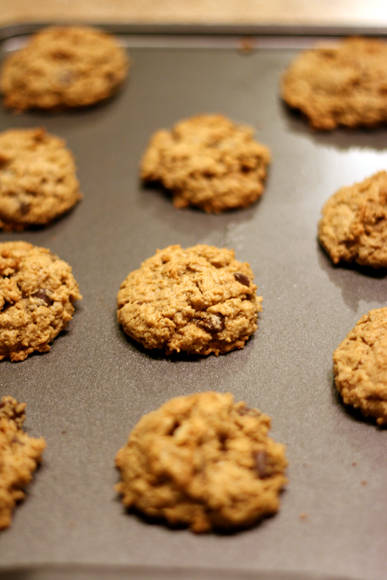 I totally love these flourless cookies!  I didn't even know you could make flourless cookies until recently…and thanks to my gluten free friend!  You wouldn't even know these are flourless just by eating them.  Make sure to use gluten free oats if you are needing these to be gluten free.
Ingredients:
3/4 Cup Sugar
3/4 Cup Brown Sugar
1/4 Cup Butter
1 1/4 teaspoon Baking Soda
2 Eggs
1 teaspoon Vanilla
1 Cup Peanut Butter
3 Cups Rolled Oats
3/4 Cup Chocolate Chips (mini or regular size)
1/2 Cup Walnuts, chopped
Preheat oven to 350°F and lightly grease two cookie sheets.
In the bowl of a stand mixer, cream together the sugar, brown sugar and butter.  Mix in the baking soda, eggs and vanilla until fully incorporated.  Mix in the peanut butter.  Using the stir speed, stir in the oats, chocolate chips and walnuts.
Use a cookie scoop (or rounded Tablespoon) to place on the prepared baking sheets about 2 inches apart.  Bake until lightly golden and delicious, about 10-12 minutes.  Leave on the cookie sheet for about 5 minutes before transferring to a cooling rack.
Yield: about 48 cookies depending on size