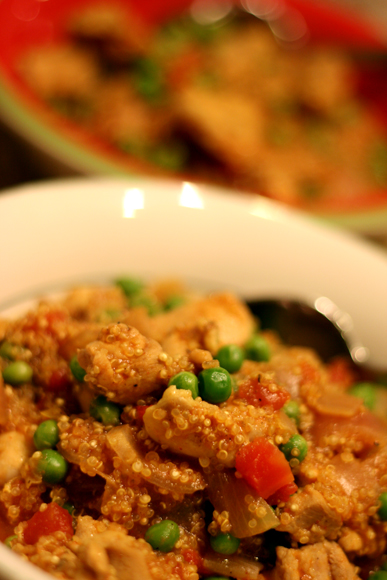 This is a quick and easy one pot meal that is perfect for a weeknight dinner!
Ingredients:
1 Tablespoon Olive Oil
1 ½ lbs Boneless Skinless Chicken Breasts or Thighs, cut into bite sized pieces
1 Small Onion, chopped
2 Garlic Cloves, finely grated
15 oz Can Diced Tomatoes
1 Tablespoon Curry Powder
½ Tablespoon Chili Powder
1 teaspoon Freshly Ground Nutmeg
2 Cups Chicken Broth
1 Cup Quinoa
12 oz Bag Frozen Peas
Salt & Pepper, to taste
Heat the oil in a large pot over medium-high heat.  Add the chicken and onion, sauteing until the chicken is browned.
Stir in the tomatoes, curry powder, chili powder and nutmeg.  Simmer for a couple minutes.
Add the chicken broth and bring to a bubble.  Stir in the quiona and reduce heat to medium-low.  Cover the pot and cook for 20 minutes.  Stir in the peas in the last couple minutes of cooking.
Serves: 4
-Recipe by: One Dish Dinners–