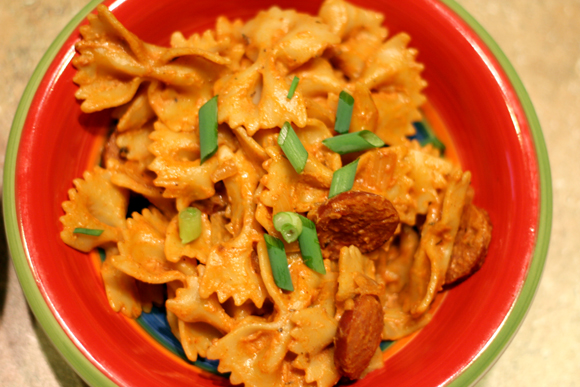 I'm in the process of unloading pictures from my camera and found pictures of this delicious dish.  My mouth is watering just thinking about this yummy pasta.  I need to make this one again!
Ingredients:
12 oz Farfalle Pasta
14 oz Smoked Sausage, sliced thin
1 Onion, chopped
3 Garlic Cloves, finely grated
1/2 Cup Chicken Broth
2 teaspoons Cajun/Creole Seasoning (I used Emeril's Essence Creole Seasoning)
1 ½ teaspoons Paprika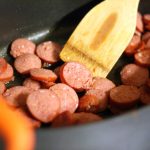 Salt & Pepper, to taste
8 oz Can Tomato Sauce
½ Cup Sour Cream
2 Green Onions, thinly sliced
Parmesan Cheese
Bring a large pot of water to a boil.  Salt the water then add the pasta.  Cook until al dente.
While the pasta is cooking, brown the sausage in a skillet over medium heat.  Once browned, reserve on a plate.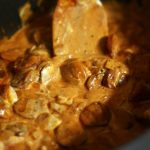 Add the onion and garlic to the pan.  Cook until they start to soften, about 2 minutes.  Pour in the chicken broth, bring to a bubble then let reduce for a couple minutes.
Add the Cajun/Creole seasoning, paprika, salt, pepper, tomato sauce and the reserved sausage.  Cook until heated through, about 2 minutes.  Stir in the sour cream and simmer for couple minutes.
Toss with the pasta.  Garnish with green onions and Parmesan cheese.
Serves: 4-6
-Recipe adapted from Plain Chicken–