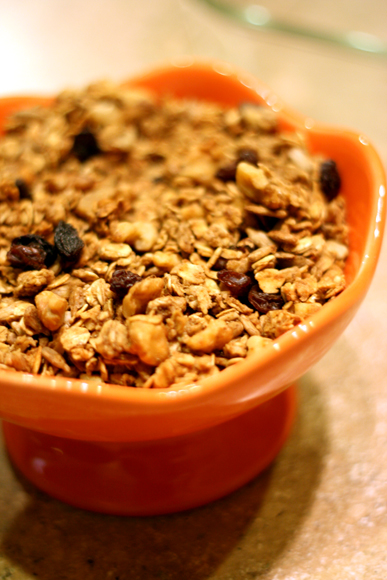 This is a delicious low-calorie granola that is great alone or on top of yogurt!
Ingredients:
2 ½ Cups Old Fashioned Oats
1 Cup Nuts (pecans, walnuts, almonds)
1/2 Cup Sunflower Seeds
1/4 Cup Sesame Seeds
1/4 Cup Brown Sugar
1 teaspoon Cinnamon
1/2 teaspoon Salt
1/2 Cup Unsweetened Applesauce
1 Tablespoon Honey
1 Tablespoon Vegetable or Canola Oil
1/3 Cup Raisins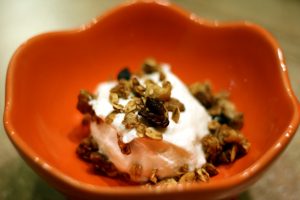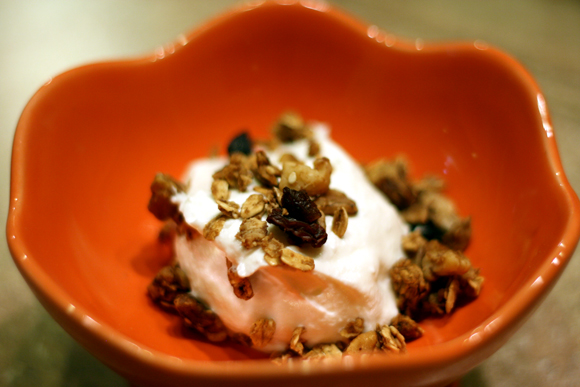 Preheat oven to 300°F.
Combine the oats, nuts, sunflower seeds, sesame seeds, brown sugar, cinnamon and salt together in a large bowl.
Heat the applesauce, honey and oil together either in a small saucepan over low heat or in the microwave.
Stir the applesauce mixture into the oat mixture until fully combined.
Spread it out onto a baking sheet. Stir every 10 minutes of baking until the granola is golden brown. This will take a total of about 45-50 minutes. Stir in the raisins after baking.
Store in an air tight container.
-Recipe found at Fake Ginger–