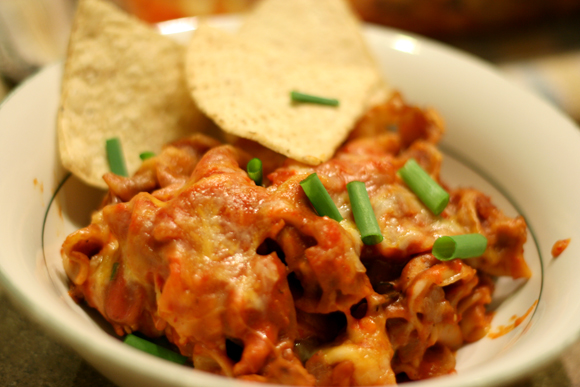 This recipe makes for a super easy way to make enchiladas.  No fussing with rolling tortillas…just stir it all together with some pasta and you're done!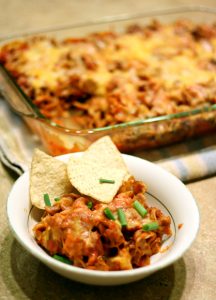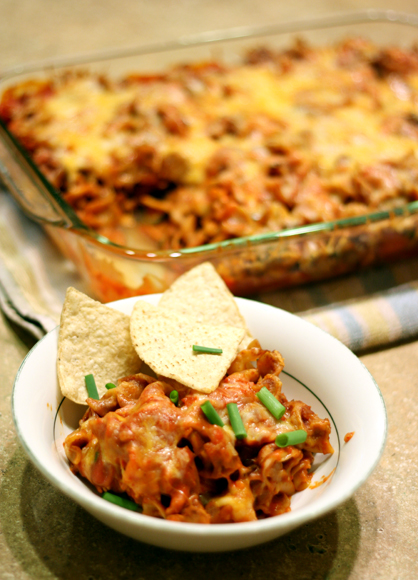 Ingredients:
12 oz Wide Egg Noodles
1 Tablespoon Extra Virgin Olive Oil
3/4 lbs Chicken Tenders, cut into bite sized pieces
3 Large Bell Peppers (any color), chopped
1 Onion, chopped
Salt & Pepper
16 oz Can Refried Beans
28 oz Can Enchilada Sauce (I like Macayo's brand)
3 Tablespoons Taco Seasoning
8 oz Cheddar Jack, shredded
4 Green Onions, sliced
Bring a large pot of water to a boil.  Salt the water, add the pasta and cook until al dente.  Drain.
While the pasta is cooking, preheat the oven to 350°F.
Heat the olive oil in a large skillet over medium-high heat.  Add the chicken and cook until browned.  Add the peppers, onions and season with salt, pepper and taco seasoning.  Cook until the veggies begin to soften.
Stir in the refried beans and 2 cups of the enchilada sauce.  Simmer for a few minutes until heated through.  Remove from the heat and stir in 1/2 cup cheese and green onions.
Spread 1/2 cup enchilada sauce in a 9×13 inch baking dish.  Mix the pasta with the chicken mixture and pour into the dish.  Drizzle with the remaining enchilada sauce and sprinkle with the remaining cheese.
Bake until bubbly, about 20 minutes.
Serve with tortilla chips and sour cream.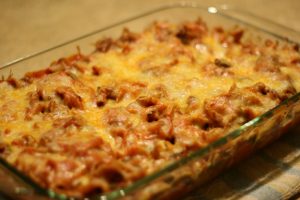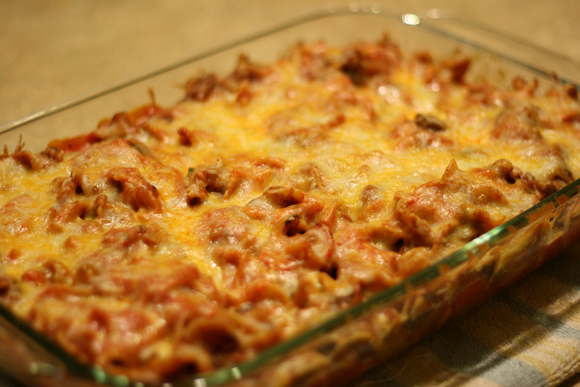 Serves: about 6
-Recipe adapted from Better Homes and Gardens–