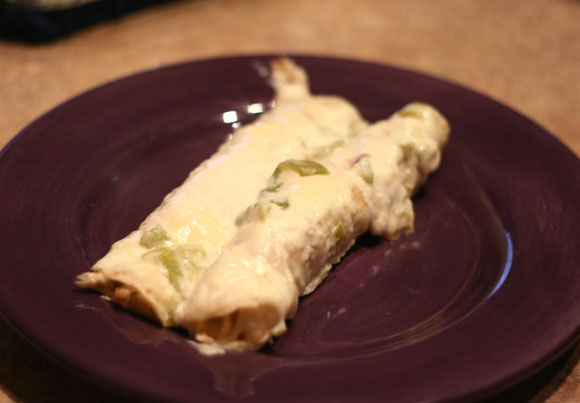 These Green Chile Enchiladas are really tasty. Chloe even ate them! I made them with shredded turkey instead of chicken. The original recipe calls for 1 lb chicken breasts, cooked with the onion. Either way they are amazing enchiladas. I ended up adding a little extra turkey and made 13 enchiladas. I fit 9 of them in my casserole dish and froze the remaining 4.
Ingredients:
3 Cups Shredded Chicken
1 Onion, chopped
1 Tablespoon Olive Oil
8 inch Flour Tortillas (8 or more depending on how full you fill your enchiladas)
2 Cups Monterey Jack Cheese, shredded
1/4 Cup Butter
1/4 Cup Flour
2 Cups Chicken Broth
1 Cup Sour Cream
4 oz Can Green Chilies
Preheat oven to 400°F and lightly grease a 9X13 inch casserole dish.
Heat olive oil in a large skillet over medium/high heat. Add onion and cook until softened, about 3-5 minutes. Add chicken and cook until warmed.
Melt butter in a saucepan over medium/high heat. Whisk in flour and let cook 1 minute. Slowly whisk in chicken broth. Bring to a bubble and let simmer until thickened. Remove from heat and stir in sour cream and green chilies.
Place a couple spoonfuls of the chicken mixture on a tortilla and top with a spoonful of cheese. Roll up tortillas and place seam side down the casserole dish.
Pour sauce over enchiladas and top with remaining cheese. Bake until sauce is bubble, about 15-20 minutes.
Yield: 8-13 Enchiladas
-This recipe is found many places online…although a good friend made it for us and sent me the recipe-