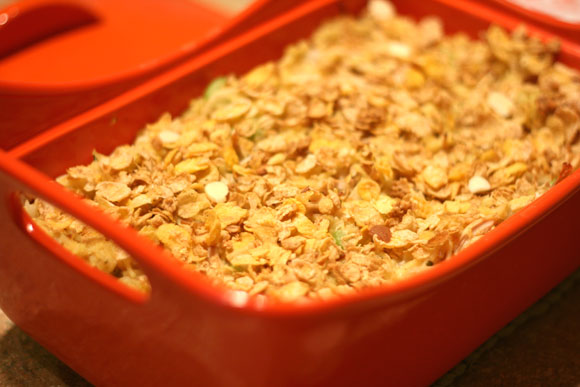 This Chicken and Rice Casserole is a simple meal to prepare. This would be a great use for leftover turkey!
Ingredients:
1 Family Size Box (Or 2 Regular Size) Chicken Flavored Rice-a-Roni
4 Tablespoons Butter, for Rice-a-Roni
3 Cups Shredded Chicken or Turkey
1 Stalk Celery, chopped
1 Onion, finely chopped
3/4 Cup Sour Cream
1 Can Cream of Chicken Soup
1/2 Cup Slivered Almonds
1/2 Cup Corn Flakes
Preheat oven to 325°F.
Prepare the Rice-a-Roni following the package directions.
Stir in chicken, celery, onion, sour cream and cream of chicken soup.
Transfer to a casserole dish and top with almonds and corn flakes.
Bake until bubbly, 20-30 minutes.
Yield: 6-8 Servings
-Recipe adapted from Mama Loves Food–