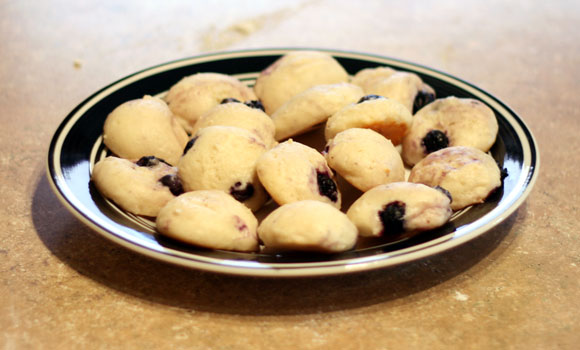 This is a great mixture of muffin and cookie. The yogurt gives these Blueberry Muffin Top Cookies a nice tangy taste that goes well with the blueberries.
Ingredients:
1 Cup Sugar
1 1/2 Cups Plain Greek Yogurt
1 Egg
1 teaspoon Vanilla
2 Cups Flour
2 teaspoons Baking Powder
1/2 teaspoon Salt
1 Cup Fresh or Frozen Blueberries
Preheat oven to 375°. Lightly grease two baking sheets with nonstick spray or butter.
Combine sugar and yogurt together in a large bowl. Mix in egg and vanilla.
Stir together flour, baking powder and salt in a small bowl. Add flour mixture to the large bowl. Mix until combined.
Carefully fold in the blueberries.
Drop tablespoons of dough onto the baking sheets about 2 inches apart. Bake until the cookies just start to brown, about 10 minutes.
Let cool a couple minutes on the baking sheets before transferring to cooling racks.
Yield: about 40 cookies
-Recipe from La Fuji Mama–