Ingredients:
2 lbs Potatoes, cubed
1/4 Cup Butter
1/4 Cup Milk
Salt & Pepper
1-2 Tablespoons Extra Virgin Olive Oil
1lb Ground Beef
1 Large Onion, chopped
1lb Green Beans, cut into 2-3 inch pieces
1 Can Cream of Chicken or Mushroom Soup
1 Can Diced Tomatoes (Italian Style)
1 Cup Shredded Cheddar Cheese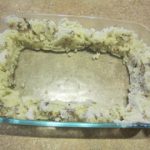 Preheat oven to 350°F.  Spray a 9×13 inch casserole dish with non-stick cooking spray.
Boil the potatoes in a large pot of water until tender, about 15 minutes.  When they are done, drain and add butter, milk and salt & pepper to taste and mash them.
While the potatoes are cooking, heat the olive oil in a large skillet ove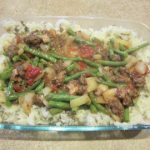 n medium-high heat.  Add the beef and cook until browned, about 5-7 minutes.  Add the onion and green beans, cooking until softened, about 3-4 minutes.  Season with salt and pepper to taste.
Stir in the cream of chicken/mushroom soup and diced tomatoes.
Make a ring of mashed potatoes in the casserole dish.  Add the beef filling to the center of the ring.  Top with cheese and bake for 30 minutes.
Serves: 4-6