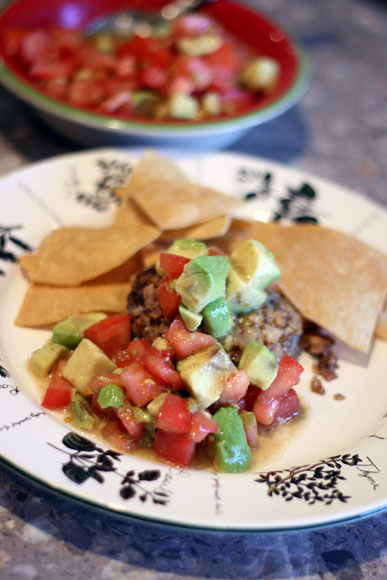 These patties have salsa mixed into them before they are coated in tortilla chips.  They are great with or without a bun.  I found a tasty fresh tomatillo salsa at a local store to make these with.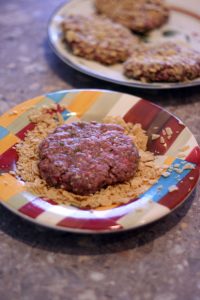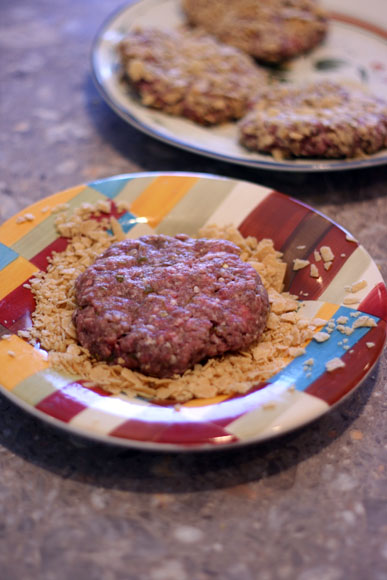 Ingredients:
1 lb Ground Beef
1/4 Cup & 2 Tablespoons Tomatillo Salsa
1/4 teaspoon Salt
1/4 teaspoon Black Pepper
2 Cups Tortilla Chips, crushed
2 Tomatoes, chopped
1 Avocado, chopped
1 Tablespoon Olive Oil
Combine the beef, 1/4 Cup salsa, salt and pepper together in a large bowl.  Form into 4 patties and coat in the crushed tortilla chips.
Cook the patties in a large skillet over medium-low heat.  Cook to desired doneness, flipping once during cooking.
While the patties are cooking, prepare the topping by combining the tomatoes, avocado, olive oil and remaining salsa.  Season with salt and pepper to taste.
Serve the patties with the avocado salsa on top.
Yield: 4 Servings
-Recipe from Rachael Ray Magazine-