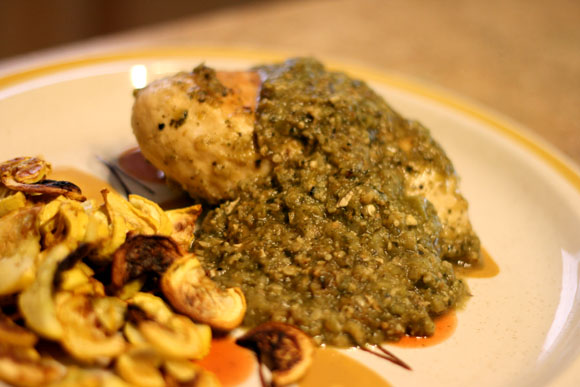 This Chicken Pepian recipe is one I have made a few times.  It has a wonderfully nutty flavor from the toasted pumpkin seeds.  I have also made this as a freezer meal and it froze very well.  Just prepare the sauce and freeze.  Go ahead and freeze some chicken breasts too, separate from the sauce so you have everything you need to make Chicken Pepian.  Thaw the sauce and chicken in the refrigerator overnight and cook as directed below.  You could even make a double batch of the sauce and freeze half.  It's great having a couple meals in the freezer for days you don't feel like cooking or planning a meal.  I roasted up some yellow crookneck squash to serve alongside the Chicken Pepian.  It was a great pair because the squash develops a nice nutty flavor when roasted.
Ingredients:
1 lb Fresh Tomatillos
1 Large Poblano Pepper, seeded and cut into 4 pieces
2 Tablespoons Olive Oil, divided
1/2 Cup Raw Unsalted Pumpkin Seeds
5 Peppercorns
2 Whole Allspice (or 1/4 teaspoon ground)
1/2 teaspoon Ground Cumin
1 Medium Onion, chopped
4 Cloves Garlic, minced
1 Cup Cilantro
1 Cup Chicken Broth
1 Jalapeno Pepper, seeded
1/2 teaspoon Salt
4 Boneless, Skinless Chicken Breasts
Preheat the broiler.  Remove the paper-like husk from the tomatillos and rinse them to remove the sticky coating.  Cut them into quarters and place on a baking sheet along with the poblano pepper.  Drizzle with 2 teaspoons olive oil and toss to coat.  Put under the broiler until charred, about 10 minutes.
Toast the pumpkin seeds, peppercorns, allspice and cumin in a large skillet over medium heat, about 3-4 minutes.  They will smell very fragrant when toasted.  Reserve on a plate.
Add 2 teaspoons olive oil to the same skillet and soften the onions over medium heat.  Add the garlic and cook for 1 minute.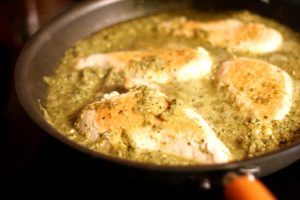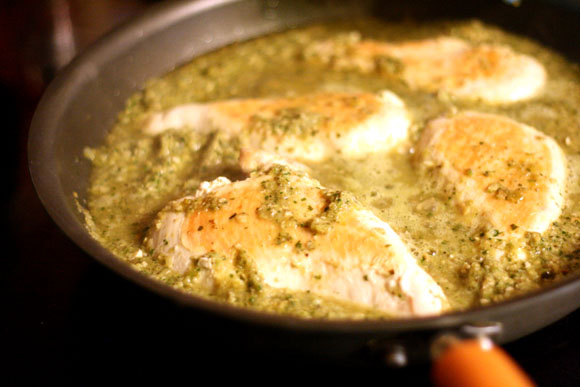 Blend the tomatillos, poblano, onion, garlic, cilantro, chicken broth, jalapeno, toasted seeds and spices and salt together in a food processor or blender.  Blend until smooth.
Heat the last 2 teaspoons olive oil in the skillet over medium-high heat.  Add the chicken and cook until browned on both sides.  Add the sauce and simmer until chicken is cooked through, about 5 minutes.
Yield: 4 Servings
-Recipe by Ellie Krieger of Food Network–