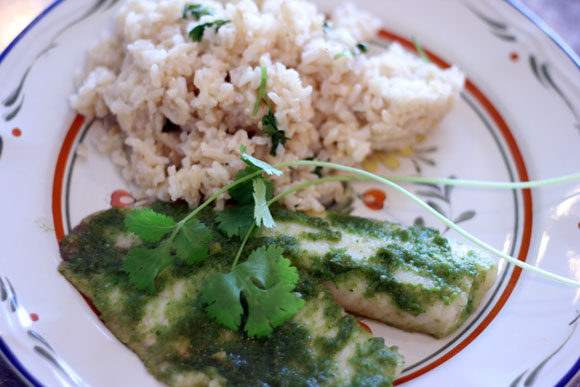 I have grand plans of cooking fish once a week, but it ends of being once every 6 months or so.  I totally forget about fish.  I don't know why I don't cook fish more often, it cooks so quickly.  This Baked Ginger Cilantro Tilapia takes less than 30 minutes to prepare and cook.  Since I had extra cilantro, I added a handful to the brown rice along with freshly squeezed lime juice.  The lime juice made for a great flavor combination with the Baked Ginger Cilantro Tilapia.
Ingredients: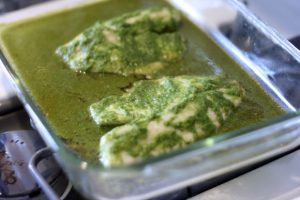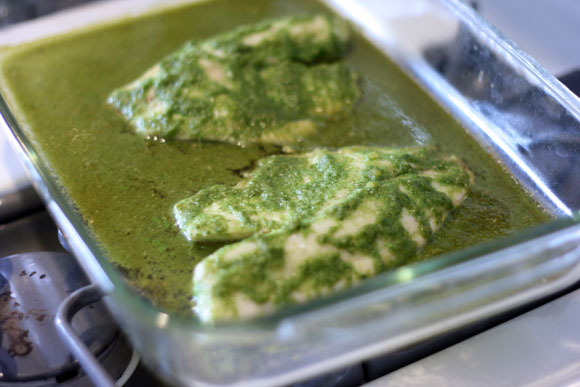 4 Tilapia Fillets
Salt & Pepper
3 Garlic Cloves
1 inch Fresh Ginger, peeled
1/3 Cup Cilantro
1/4 Cup Water
2 Tablespoons Soy Sauce
1 Tablespoon Sesame Seeds
Preheat oven to 475°F and lightly grease a glass baking dish.
Season the fish with salt and pepper and place in the baking dish.
Put the garlic, ginger, cilantro, water, soy sauce and sesame seeds together in a blender or food processor.  Blend to combine.  Pour this sauce over the fish.
Bake until the fish is cooked and flakes apart, 8-10 minutes.
Serve with brown rice.
Yield: 4 Servings
-Recipe inspired by The Kitchn–